Kerfkore's Year-End Flashback
December 7, 2022
The end of the year is a time to reflect and with 2022 coming to a close and 2023 just right around the corner, we're looking back at some of our favorite Kerfkore projects — not just from this year but the past few.
These projects highlight a variety of possibilities with Kerfkore lightweight and flexible architectural panels. You'll see some of our favorite and most popular products in a variety of settings, from casinos to healthcare facilities.
For everyone on the Kerfkore team, it's incredible to see what we work on every day utilized in creative, lasting, and visually stunning projects. It's a credit, not only to our team, but to the architects, fabricators, and interior designers who are relying on Kerfkore lightweight and flexible panels for their quality, consistency, and time-savings to make their visions realities.
University of Maryland School of Public Policy
The University of Maryland in College Park, Maryland is one of the nation's preeminent public research universities.
Inside the campus is Maryland's School of Public Policy, one of the University's leaders in its commitment to research, entrepreneurship, and innovation. Those values have been encapsulated in its nickname, the Do Good Institute.
The idea behind naming the School of Public Policy the Do Good Institute was to "offer hands-on experiences, funding opportunities, engaging curriculum, and effective programs that prepare Terps with the skills, experiences and resources to Do Good throughout their lives."
In order to honor the programs, students, and alumni that exhibited the Do Good credo, the University of Maryland built its Change The World exhibit, which features ten interactive kiosks along a curved wall that showcase "the incredible successes of the purpose-driven teams, people, projects, and initiatives and ventures creating impact on campus and beyond."
Fallston Supply, from Fallston, Maryland was hired to fabricate the wall and construct the kiosks that would make up the Change The World exhibit. For the outermost layer of the wall, the Fallston Supply team utilized 3/4″ Flexboard, which combines our unique base layer manufacturing process with a 0.080″ hardboard face to create a flexible and extremely stable base layer, which allows for easy attachment of high-pressure laminates, veneers, metals, and other semi-rigid materials.
Here, you can see the Flexboard wrapping around the curvature of the wall, with slots where the kiosks are attached.
Flexboard allowed Fallston Supply to create a curved and appealing exterior, a complementary canvas for the Change The World kiosks.
Western Montana Clinic
We've mentioned before how curves in architecture inspire feelings of happiness. There are few places where good vibes can be more appreciated than a healthcare setting. For this Missoula, Montana dermatology clinic, a welcoming atmosphere was key for their reception desk.
Woodside Industries, a cabinet and casework manufacturing company, fabricated the desk for Western Montana Clinic and utilized Flexboard to create an accessible and professional first impression for patients.
Quiktrip
Founded in 1958, Quiktrip has become one of the leading convenience stores in the United States, with over 900 locations in 14 states. For any convenience store, one of the most important components is its counters, where most of the interactions between customers and employees take place.
Our 3/4″ Timberflex has been used at many Quiktrip locations to create welcoming counters and displays. Timberflex combines our unique base layer manufacturing process with 1/8″ imported Italian Poplar Plywood face. This creates a flexible and extremely stable base layer that allows Quiktrip to apply its signature red stripe.
Del Frisco Steakhouse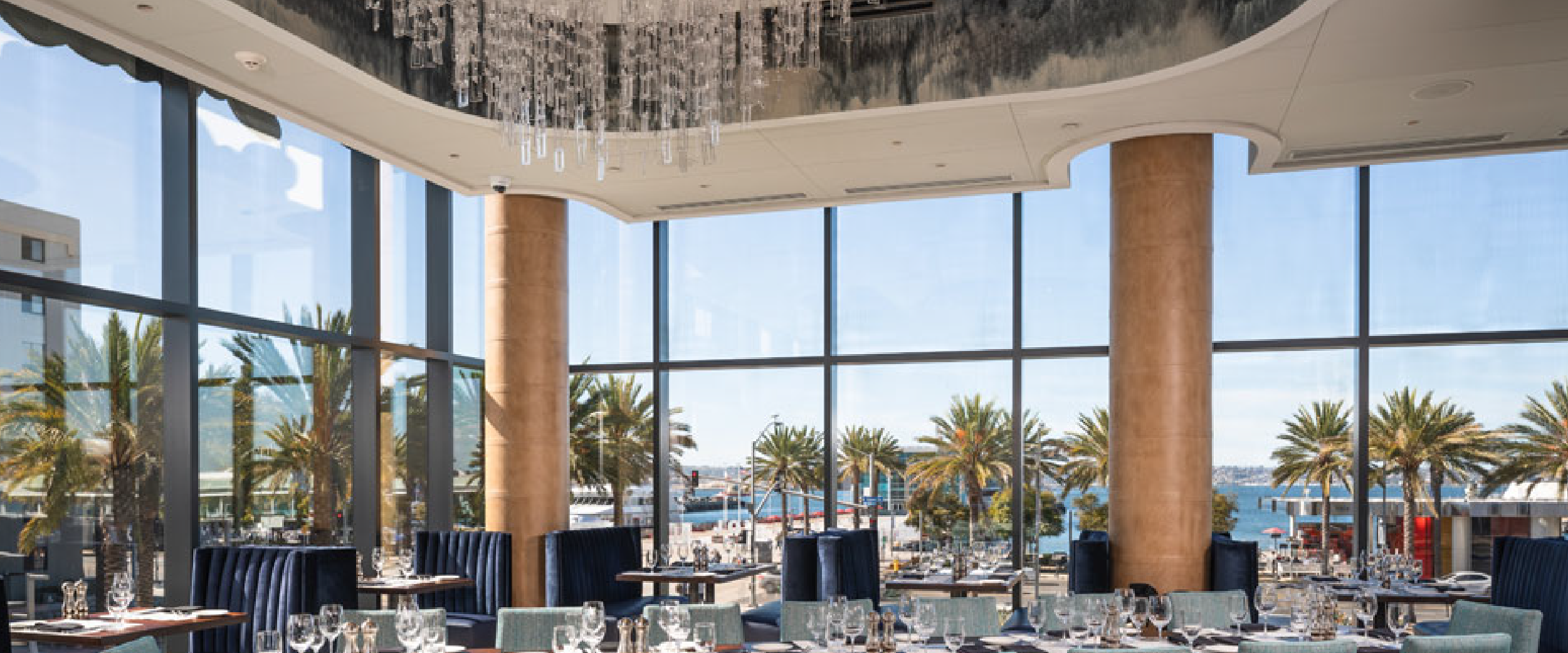 Ecodomo®, a sustainable leathers and fabrication company, was asked to create a set of columns that would complement San Diego-based Del Frisco's Double Eagle Steakhouse's dining room.
Ecodomo required a material that would provide the flexibility and stability needed to form the necessary radius of the restaurant columns while allowing for the application of a signature Ecodomo leather veneer.
Ecodomo utilized Flexboard with a smooth eucalyptus hardboard face, which created the perfect platform for Ecodomo's sustainable leather veneers. Ecodomo and Kerfkore's Flexboard-equipped, leather columns now decorate the dining room which overlooks the San Diego bay. Download the full case study, to learn more details about this stunning project.
Lucky Star Casino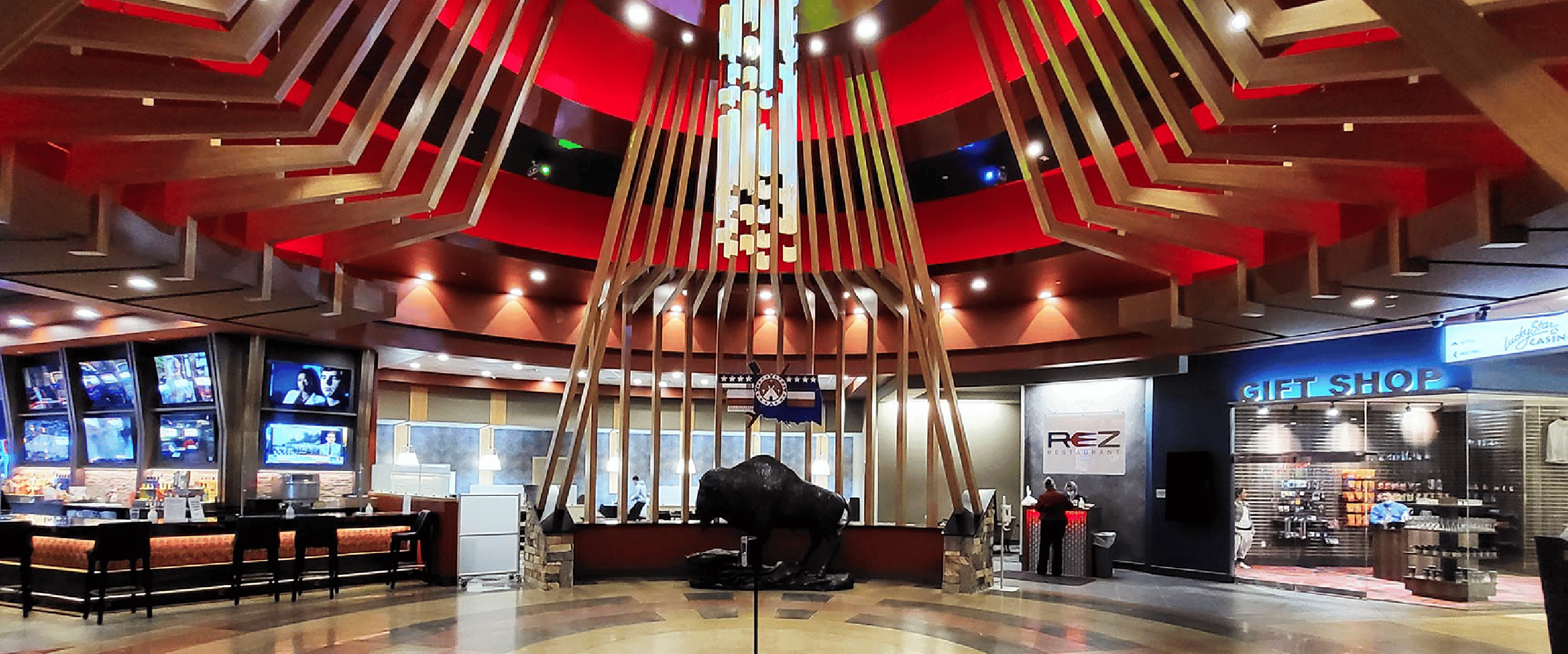 Lucky Star Casinos are owned and operated by the historic Cheyenne and Arapaho Tribes throughout Oklahoma. For their Watonga, Oklahoma location, WORTHGROUP Architects and Designers, the Design Architects and Interior Designers of the project, enlisted Fadco, Inc to help execute their vision.
Fadco, a premium-grade architectural millwork manufacturing company, was tasked with building a grand tee-pee-inspired entrance that would pay homage to the casino's Native American heritage.
For this project, Fadco utilized Worklite Foamkore panels, one of our lightweight architectural products, to create the intricate ceiling design at the main entrance of the casino. Both the teepee columns and feather soffits were constructed with Worklite Foamkore.
More Project Highlights
Find inspiration in these innovative uses of Kerfkore products.

Left Image: Photo Credit and Implementation to Deland Woodcrafter
Center Image: Photo Credit and Implementation to Woodside Industries Fabrication
Right Image: Photo Credit to FAMSF
Did these projects inspire you to start planning big things for 2023? Or maybe you've used Kerfkore products in your own project and would like to be featured on our website, let us know! We'd love to discuss what's possible for your next design or architectural project — contact us today