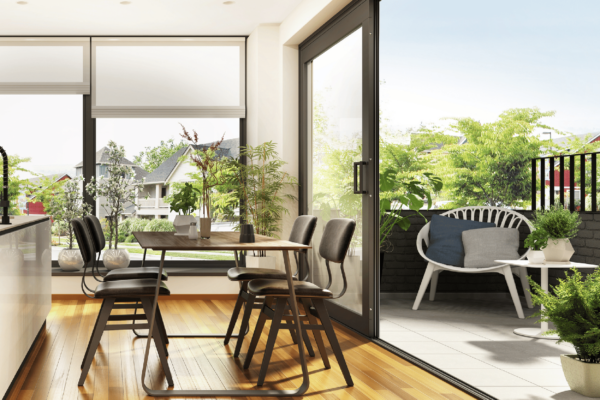 The Biggest Architectural and Interior Design Trends of 2023
January 18, 2023
As a company that prides itself on being on the curvy edge of interior design and architecture, we like to explore what's on the horizon for our industry. As 2023 begins, we called on our good friend, Jini Lee — the Marketing and Product Development Specialist for Dixie Plywood & Lumber, to take us through her predictions of the biggest design and architectural trends of 2023.
ARCHITECTURAL TRENDS
Resimercial
More people are working from home than ever before and there are no signs that the popularity of remote work will slow down in 2023. To make working in the office more appealing, companies are redoing their offices to become homier, with a style dubbed "resimercial" as a fusion between commercial and residential.
"Since Covid, because so many people have been working from home, a lot of the commercial projects are going more residential," says Jini. "They're trying to make the environment feel more like home, more comfortable, and a place that you want to be."
Resimerical is all about welcoming environments. Designers are incorporating houseplants, natural materials, better lighting, more comfortable furniture, and rooms or spaces that can offer privacy akin to working from home.
Outdoor Living Spaces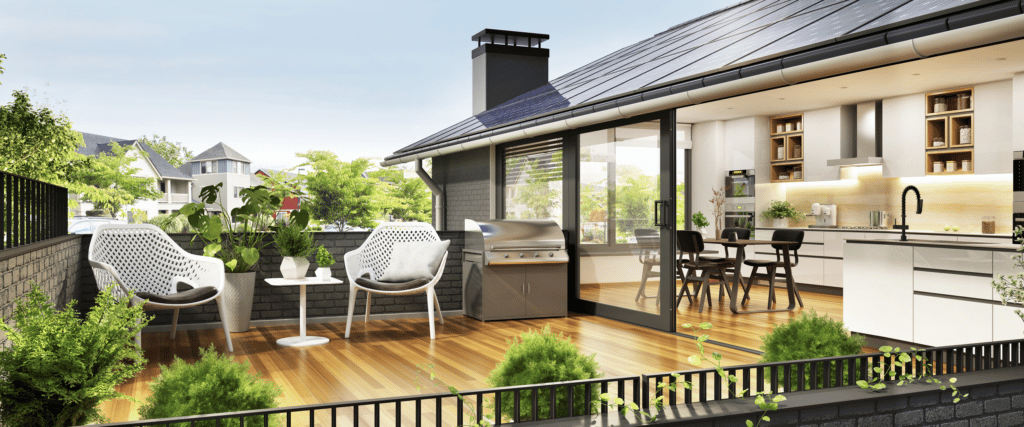 After spending the majority of 2020 cooped up, most people can really appreciate a nice outdoor living space. In recent years, we've seen restaurants incorporate patios that blur the line between indoors and outdoors, and in 2023 we'll see more of those elements make their way into homes.
"I think outdoor living spaces are going to be big in 2023. People are going to start paying more attention to them for barbeques, and want bigger outdoor living spaces, " Jini says.
Architects are building homes with large glass doors to make adjacent living spaces feel like they're in the backyard. And designers are incorporating homier outdoor furniture that wouldn't look out of place indoors.
Less Formal Spaces
How many times has your family eaten dinner huddled around your living room coffee table instead of bothering with the dining room? You're not alone.
"Formal rooms aren't really being used," explains Jini. "They're using that space for more family-oriented rooms, where people can spend more time, like a family room instead of a formal dining room."
Home Offices
"Home offices are no longer a luxury, I think they're a necessity now," Jini says.
This is another trend driven by the pandemic. While employers are hoping to make their offices more like home, some work-from-home folks are hoping to make their home offices even better. Architects can expect to design homes with more bedrooms or quiet spaces that can be used as offices when necessary.
INTERIOR DESIGN TRENDS
Natural Materials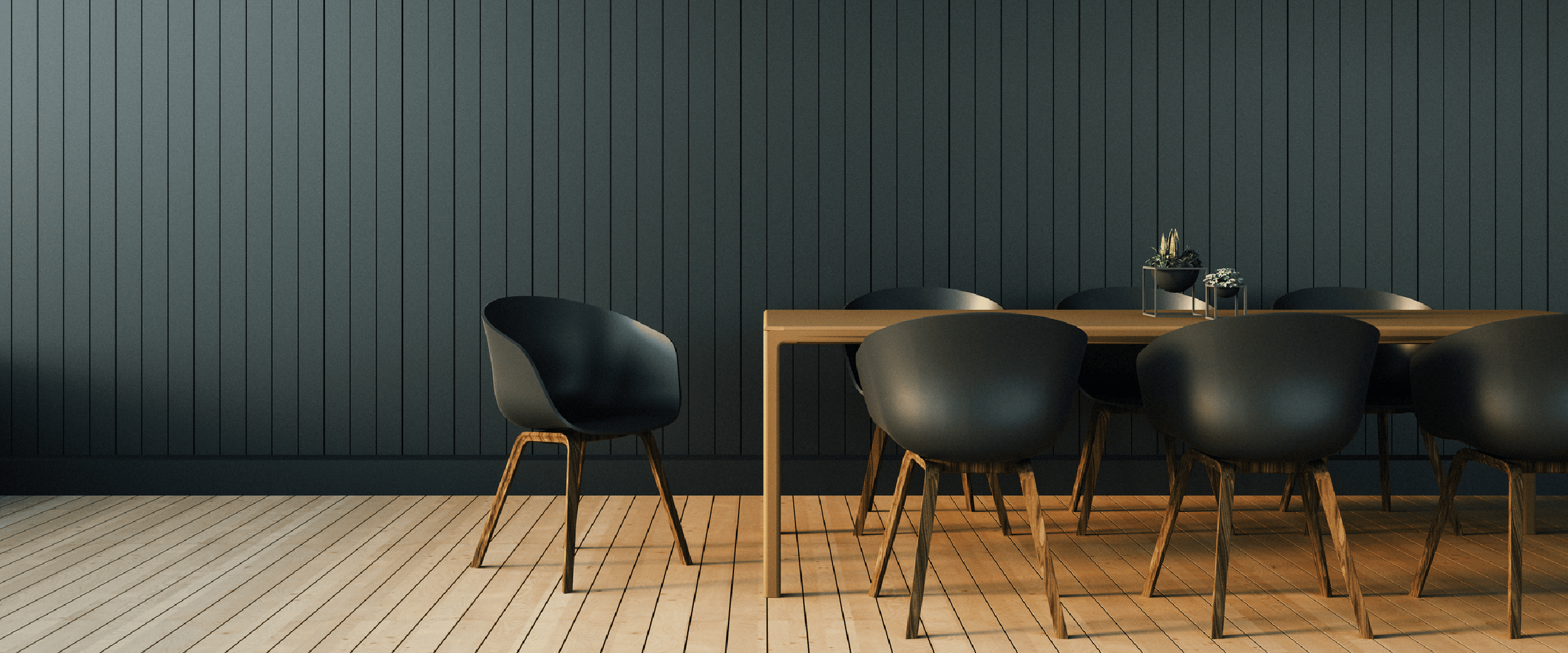 Wood and other natural materials rarely go out of style, but in 2023 it's likely they'll be even more popular.
"It's already here," says Jini. "But I think it's gonna stay a little longer. This is for interior and for architects but European style siding is going to stay very trendy through 2023."
European-style siding helps exteriors and interiors incorporate a natural and modern feel.
Curved Furniture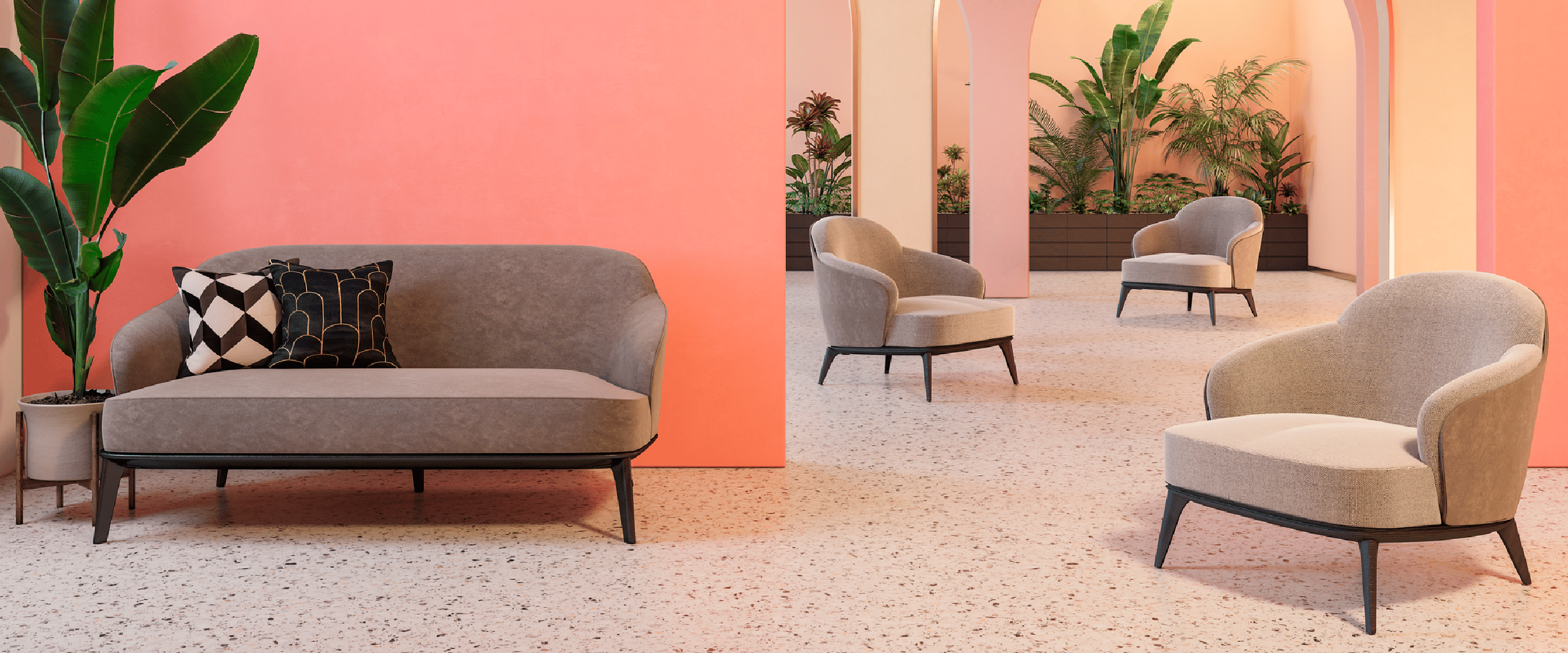 At Kerfkore, we keep a close eye on any interior design or architectural trends that take advantage of curved fabrication. We've seen curved furniture popping up more and more recently, thanks to its inviting and natural shape, and it doesn't sound like it'll be disappearing in 2023.
Curved furniture was featured in an article on the interior design website, The Design Sheppard, called Why Curved Furniture is the Trend to Watch in 2023, as well as essentialhome.eu's article Why Curved Furniture is the Trend to Watch Out For in 2023, and curved sofas were called out in Insider.com's article about the 6 living room trends that'll be big in 2023.
There's just something about a big, round, squishy sofa welcoming you with open arms.
Open, Closed, and Flexible Floor Plans
You might be sensing a trend amongst our trends. After spending too much time inside during the COVID-19 pandemic, we're collectively craving open space and natural elements, while maintaining the comfiness of the home we've grown accustomed to.
Open-floor plans are another tool architects can utilize to capture that feeling of flow and open air. In the home, an open floor plan can mean a connected living area and kitchen. Whether open floors are going to be a major trend in 2023 remains to be seen — according to marthastewart.com, there are arguments to be made for both an open floor plan and sectioned-off spaces in the home.
In the office world, some companies may be hesitant to embrace the open floor plan and expose their workers to potential illness after the pandemic Even without the threat of infection, open floor plans in the office were never extremely popular (here's a New York Times article titled The Immortal Awfulness of Open Plan Workplaces). Instead, offices are implementing "quiet spaces" – which create sectioned-off areas where a worker can retreat from the distractions of a crowded office or home.
In between the open and sectioned-off workplaces is the flexible floor plan, which has been popularized by companies like WeWork. These flexible work areas can remain open when necessary or can be transformed into smaller spaces with moveable walls or partitions.
Minimalism
"We're kind of already in a minimalism era," explains Jini. "The houses that are all-white and neutral colors, and solid colors are going to stay as well. Grey has been very trendy, but I think grey is on its way out and warm colors are on their way in."
Trends can be fickle, but the clean spaces of minimalist design can be appealing to those hoping to spend more time in the home. Along with the muted colors of minimalism also comes reserved design, tight lines, and fewer textures.
Sustainability
Going hand in hand with the trend of natural elements is sustainable interior design. Not only are sustainable materials great for the environment, but they also provide designers and consumers with peace of mind.
A way designers can promote sustainability in their work is with vintage and retro furniture that stands the test of time, instead of using "fast furniture" that's built for people on the move.
"People are getting more aware and becoming WELL certified," Jini says. "Which uses more sustainable and better products for a project. And there's a list of things you can't use such as formaldehyde. It's about keeping things green and better for not just the environment on the outside but keeping it fresher on the inside for your loved ones as well."
Sustainability, natural elements, flexible-floor plans – designers are ready to start the new year with an open mindset. As for Kerfkore and Jini, we're excited to see how fabricators, designers, and architects are inspired by the latest trends in 2023.
"We love seeing new things out there. I'm just excited to see things that I haven't seen before."