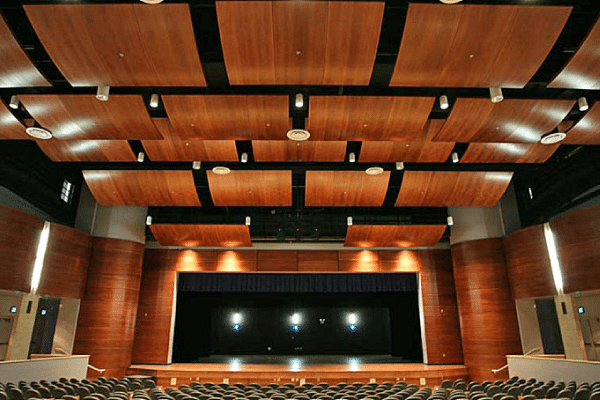 Push Your Creative Boundaries With Kerfkore
July 12, 2023
At Kerfkore, we like to think of ourselves as a conduit for creativity. Over the years, we've witnessed incredible creations come to life, from grand pianos to grand entranceways, we're continuously delighted by the projects our customers dream up. We believe that we've created flexible, lightweight, and custom solutions that change what's possible for designers, architects, and fabricators—and the proof is in the panels.
In this blog, we'll show some of our favorite examples and explore the different ways Kerfkore's flexible, lightweight, and custom panels simplify and boost our customers' creative energy.
Three Ways to Create
Our two types of products, Flexible and Lightweight, are both designed and manufactured to let users explore a wide range of creative possibilities. Kerfkore flexible panels can be utilized as a stunning centerpiece or as a supporting piece, rounding out an inviting design. While our Worklite lightweight panels are built for ease of use and let users tackle projects that involve the three Os: oversized, overhead, or overweight. Behind these two types of products is the Kerfkore team, which can also help companies develop custom solutions based on either our flexible or lightweight products.
Flexible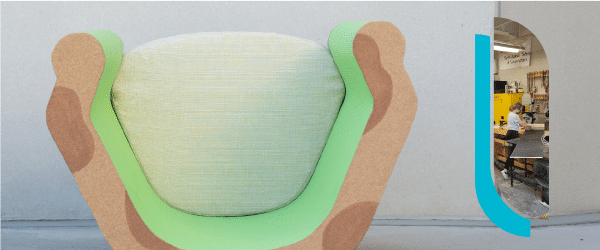 Flexible in design and execution, Kerfkore flexible panels allow designers, architects, and fabricators to achieve complex curves that many traditional materials cannot. Rather than fitting your design to your materials, Kerfkore flexible panels allow your design to match your imagination.
That was the case when an industrial design student decided she wanted to put an innovative spin on children's furniture. Inspired by physical therapy equipment, Jacqueline saw an opportunity to create children's furniture that would be inclusive to all kids and create a playful indoor experience instead of the sterile styling of medical equipment. Recommended by her mentor, she used Kerfkore with a plywood core to achieve her vision.
After completion and final tests, Jacqueline showed it to kids in her neighborhood. The children, without any instructions, started climbing over and under, sitting, and rocking as she had hoped.
Kerfkore doesn't just help creators push the boundaries, it makes project boundaries easier to work with. Kerfkore offers the following benefits over traditional bendable plywood:
Can bend tighter and with more dimensional stability
Can be laminated and then curved or curved then laminated depending on your requirements
Come in a variety of materials, thicknesses, and sheet sizes
Require little to no sanding, patching, or use of putty/Bondo
Allow for easier attachment of high-pressure laminates, veneers, metals, leathers, and other semirigid materials for a beautiful finished result.
Provide superior strength and durability over bending luan
Lightweight
Our Worklite lightweight panels let users explore their creative side by blending the warm, solid aesthetics of wood with a light and easy-to-handle weight. It's thanks to the Worklite composition, which creates a customizable substrate that can reduce weight by up to 80%, compared to particleboard, plywood, or MDF.
By allowing designers, fabricators, or architects to realize their design vision without being constrained by material weight restrictions, they can achieve truly magical work. One such example is a grand tee-pee-inspired entrance created to pay homage to a casino's Native American heritage. Designed by WORTHGROUP Architects and Designers and built by Fadco, a premium-grade architectural millwork manufacturing company, with Worklite Foamkore panels, the team was able to achieve a natural and inspiring design.
Custom Solutions Available at Kerfkore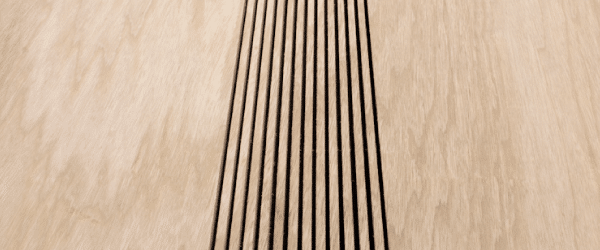 For our most inspired designers and fabricators, we also offer custom solutions. When working with Kerfkore panels customized for your specific requirements, you free your skilled production workers, get professional results, and receive fast turnaround to shorten lead times. Below are all of the ways we can customize Kerfkore for you.
Panel Size
Fit Kerfkore products to nearly any size project. Our flexible and lightweight panels typically come in standardized sizing, but we can create custom-sized panels by cutting or extending most of our products. Not only does it save you labor and time, but it also eliminates waste.
Decorative Surfacing
Add another layer of creativity and pop with custom decorative surfacing. We can press laminates, veneers, metals, leathers, or other semirigid materials of your choice on most of our flexible and lightweight products. We can also source decorative materials for you or accept direct shipments of your preferred decorative materials.
Groove Patterns
No need to groove yourself! We can custom cut grooves to your design specifications or to streamline product production. Our products can be grooved for special bends while leaving un-grooved areas for CNC machining or other manufacturing processes.
Framing and Internal Banding
Framing and banding provide areas to place mounting hardware for project applications that involve larger and heavier attachments, creating even more possibilities for users. Custom banding and framing configurations can match requirements in width, thickness, and location.
Let's Build Together
With Kerfkore architectural panels and custom solutions—your possibilities are endless. For nearly 40 years, we've been helping people and businesses make their next project their best project, and we're excited to see what the future of Kerfkore creations hold.
Have a project that requires a little Kerfkore creativity? We'd love to help! Our technical sales team can bring a consultative approach to your project to identify solutions. We can even take a look at your architectural drawings to recommend the best answers to your questions. Let's talk!