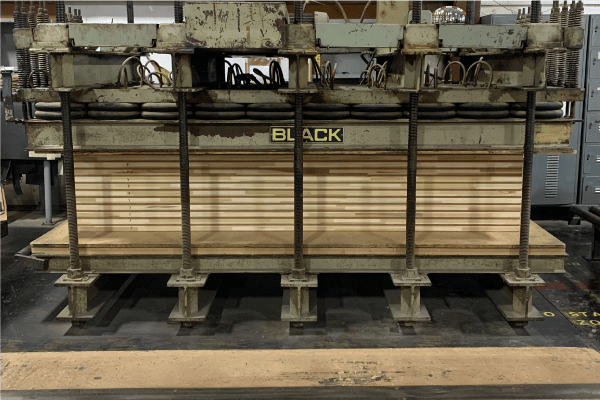 How It's Built: Custom Lightweight Door Panelsf
November 17, 2022
Doors are thought of as an entrance to somewhere new – but doors can also act as the first impression of a building or room.
The door is likely the first thing a visitor interacts with, and it consciously and subconsciously affects the way a visitor feels about the room they're entering. Think of all the places you've entered in your life – you didn't always notice the door, but when you did, it was probably something exceptional.
The panels on the door are one of its most interesting features. They transform your door from an ordinary plank of wood to something much more extraordinary – something inviting, visually interesting, and structurally sound for a long time.
At Kerfkore, we receive requests for our interior lightweight custom doors because they open up so many possibilities for designers, fabricators, and architects.
Due to their lightweight, the doors can be built to be oversized – without having to worry about the strain they cause while hanging. These oversized doors are often exactly what interior designers are chasing to give their rooms that elusive "wow" factor and to create that magical first impression.
It may sound like we're a little bit passionate about door panels, but that's because we are! If you meet a Kerfkore rep at a party, don't bring up customized door panels if you're planning on leaving early.
At Kerfkore, we build custom door panels in-house for a variety of projects. To give you a glimpse of what goes into our process for building our popular custom door panels, we went behind the scenes and outlined our step-by-step process.
The Materials We Use
Before we talk about how we transform some simple lumber into visually stunning door panels (if we do say so ourselves), let's talk about the material the panels are made of.
We typically use finger-jointed poplar plywood (FJP) for our custom door panels. Standard poplar plywood is already known for being a naturally smooth and straight lumber, but with finger-jointed poplar, only the best parts of the wood are used. The wood is reinforced by joining interlocking pieces of poplar plywood – resembling the locking of two hands, hence the finger-jointed name. This creates a stronger, straighter, and smoother board than traditional poplar plywood, providing a secure area to install hardware and door knobs into the panel.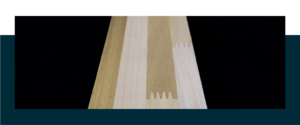 For internal core materials, we'll be using Extruded Polystyrene, commonly called XPS Blue Foam. XPS Blue Foam is a sturdy, moisture-resistant, and fire-rated foam with a dense closed-cell structure, which creates smooth and consistent edges.
At Kerfkore, Expanded (EPS) Foam and a Paperboard Honeycomb Core are also available for custom door internal materials.
So, how do we take these sturdy finger-jointed poplar plywood boards and XPS Blue Foam and end up with a beautiful custom door panel? Let's walk through the process.
How It's Built
Step 1 – Sanding the Finger Jointed Poplar Plywood
First, the FJP has to be sanded to become the proper thickness. We run the lumber through our sander, resulting in beautiful, smooth, uniform-sized FJP.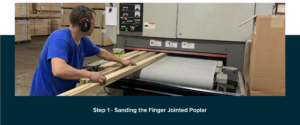 Step 2 – Cut the FJP to Size
Big doors, little doors – we fulfill orders for all sorts of custom doors, and each door has various parts of the frame that are all different sizes. We cut and organize by size for maximum efficiency.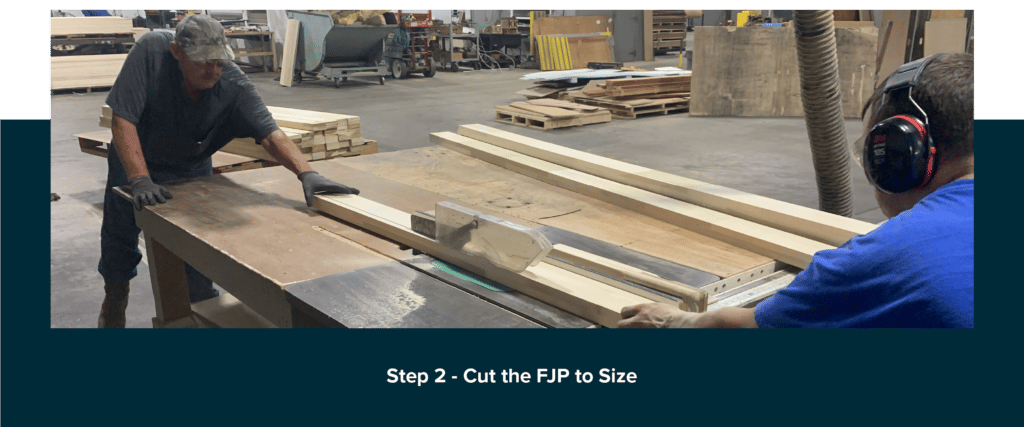 Step 3 – Assemble Door Frames
The size of the door frame is based on the specifications provided by the customer. We typically ask for drawings of the door design to ensure that we have exact measurements for assembly.
Kerfkore doors can be customized to have as many horizontal or vertical internal bands across the panel as the customer needs. Featured below is a door with only one internal band across the center horizontally.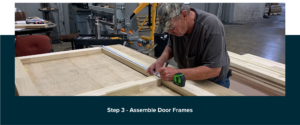 Step 4 – Cutting the Foam to Size
This is where we implement the XPS Blue Foam of the door panels. The foam is cut to size with the panel saw, to fit snuggly within the framing. We use foam to keep the overall weight of the door light compared to a fully wooden door.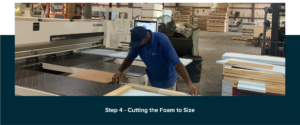 Step 5 – Applying Door Panel Face Materials
We run the face materials through our glue spreader to apply a precise amount of PVA glue. Then, the face materials are carefully placed on both sides to cover the internal foam and framing of the panels. This improves durability and provides a stable surface for decorative attachments.
We offer three different face materials for paneling:
Eucalyptus Hardboard
Fiberboard
3-Ply Italian Poplar Plywood
Typically, we recommend Fiberboard or 3-Ply Italian Poplar Plywood for your door's panel face material (if there is internal banding and framing) to ensure no telegraphing. The material shown in the picture below is 1/8″ Fiberboard.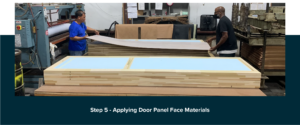 Step 6 – Adhering Panels
Using our press machine, we further adhere our face materials to the core material of our door panel. The press machine is set to a precise PSI for a specific amount of time to ensure the face materials are firmly attached to the core and frame without overpressing.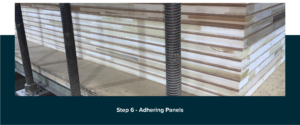 Step 7 – Drying the Panels
After the face materials of the panel have firmly adhered to the core, we begin the process of drying the panels. We place elevation rods in between each stacked panel, which allows even airflow on each side.
The panels are then placed in a humidity-controlled room for 24 hours, to ensure there is minimal moisture. This not only reduces the weight of the panel but ensures that our panels will not warp and will stay lightweight and maintain their aesthetically pleasing look for years.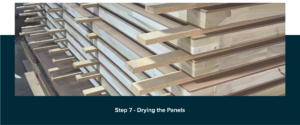 Step 8 – Trimming the Panels
The panels are then taken to our panel saw for trimming and clean-up. This step ensures the face materials are flush and perfectly aligned with the framing so that the edges are clean, smooth, and ready for the customer to apply their preferred finish.
The team at Kerfkore can also apply decorative surface materials to the faces of the panels for our customers. We can source (or customers can supply) laminates, veneers, metals, and other similar semirigid materials which can be pressed to most of our flexible and lightweight products.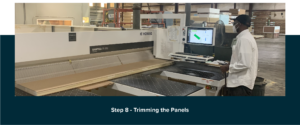 Step 9 – Packaging for Shipment
Finally, we put the proverbial cherry on the sundae and package our Kerfkore panels for shipment.
Just look at those beautiful Kerfkore Customized Door Panels, ready to transform the doors in someone's business, building, or home into unforgettable entrances.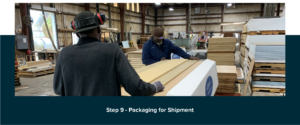 Interested in Kerfkore's Custom Lightweight Doors? We've helped plenty of happy customers navigate the process of perfecting their door design vision – it all starts with a call.