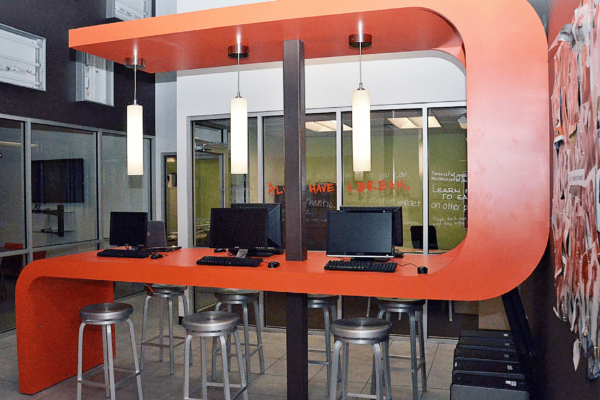 See Kerfkore Products in Higher Education Settings
September 14, 2023
In our last blog, we uncovered how essential intentional design and architectural choices can be within the world of academia, as our physical environment directly impacts the way in which we learn. If the classroom space is dimly lit, too cold or too hot, and acoustically challenged, it can be a difficult task to listen and learn new information.
Plus, creative and intentionally designed places often tend to inspire and encourage collaboration among their occupants, making it all the more important that we incorporate fresh ideas into a space that's going to shape the minds of future generations.
Kerfkore is proud to have our products play an integral part in a variety of higher education design projects all across the United States. These projects show the range of architectural and design possibilities that Kerfkore's lightweight and flexible panels make possible in a variety of educational settings — take a look.
Texas A&M University – College Station, TX
As one of the largest college campuses in the U.S., Texas A&M's College Station location has over 72,900 students roaming around their campus each semester, many of whom will need assistance with their computers or help accessing the university's network at some point during their college career. When this happens, they will find themselves journeying across campus to the Computer Services Center.
In 2017, the University began renovating this institutional space that was originally built in 1959, transforming it into an open, state-of-the-art, technological hub that invites its students, staff, and faculty to regularly leverage its range of cutting-edge resources. This airy and modern space now stands at the ready with unlimited email and chat support 24 hours a day, seven days a week.
Prior to its redesign, the former Computing Services Center was known for its small, closed-in spaces, painted concrete blocks, and low ceilings. By leveraging a clean, modern design with an open floor plan, the designer on the project was able to utilize natural and warm finishes such as wood and glass walls to reflect light and create transparency wherever possible. A circuit board was used as inspiration for the flow of the space, leading to a circular information desk that is canted in sections, with two different countertop levels sloping for total accessibility.
Keystone, the millwork provider on this project, used Kerfkore's flexible panels to create this seamless, integrated wooden finish to the rounded information desk that greets you at the front of the Center. The veneer is a slip-matched, rift-cut walnut finish, which ties in well with the other cedar and walnut tones found throughout the space.
The Vice President for IT & Chief Information Officer shared his thoughts with Keystone on how impactful this upgraded space will be to the campus as a whole. "This is a great example of an innovative strategic imperative that distinguishes our university."
University of Maryland School of Public Policy
When it comes to marrying functionality with aesthetics, Kerfkore is up to the challenge!
Fallston Supply was tasked with fabricating the wall and inserting screened kiosks that would be featured in the Change The World exhibit. These four, interactive kiosks sat along a curved wall to highlight ten different stories from a variety of people, projects, and initiatives that have been successful in impacting the world for good in big and small ways.
Due to the wall's curved nature, Fallston Supply understood they needed the right materials to do the job, and so they turned to our Flexboard® panel solution.
"Kerfkore was the only way to go on this project," said Sam Conley, Operations Manager, of Fallston Supply. "We needed a way to fabricate a sequenced group of panels on a constantly changing radiused wall. This included vertical and horizontal reveals that had to align with alcoves and AV equipment. Other cores would require us to make forms for each and every panel. That was cost and time-prohibitive. Instead, we CNC cut supportive ribs to match the curve of each section to form the kerf into the correct shape. The reveal areas and rib locations were then machined into the back of each panel."
On the outermost layer of the wall, they utilized Kerfkore's ¾" Flexboard® panels, a flexible yet entirely stable base layer. These panels also allow for easy attachment with high-pressure laminates, veneers, metals, and other semi-rigid materials.
"We've used Flexboard many times," explains Sam. "For this project, we needed a product that could be laid up before bending and Flexboard worked very well."
The Flexboard® seamlessly wrapped around the curvature of the wall, with slots for kiosk screens to be inserted throughout, pairing an aesthetic finish with a functional role. And, the same design seen here, was carried throughout some of the other curved lecture halls in the building.
When asked whether he was happy with the results with Kerfkore Sam said, "importantly the architect and customer were."
University of North Florida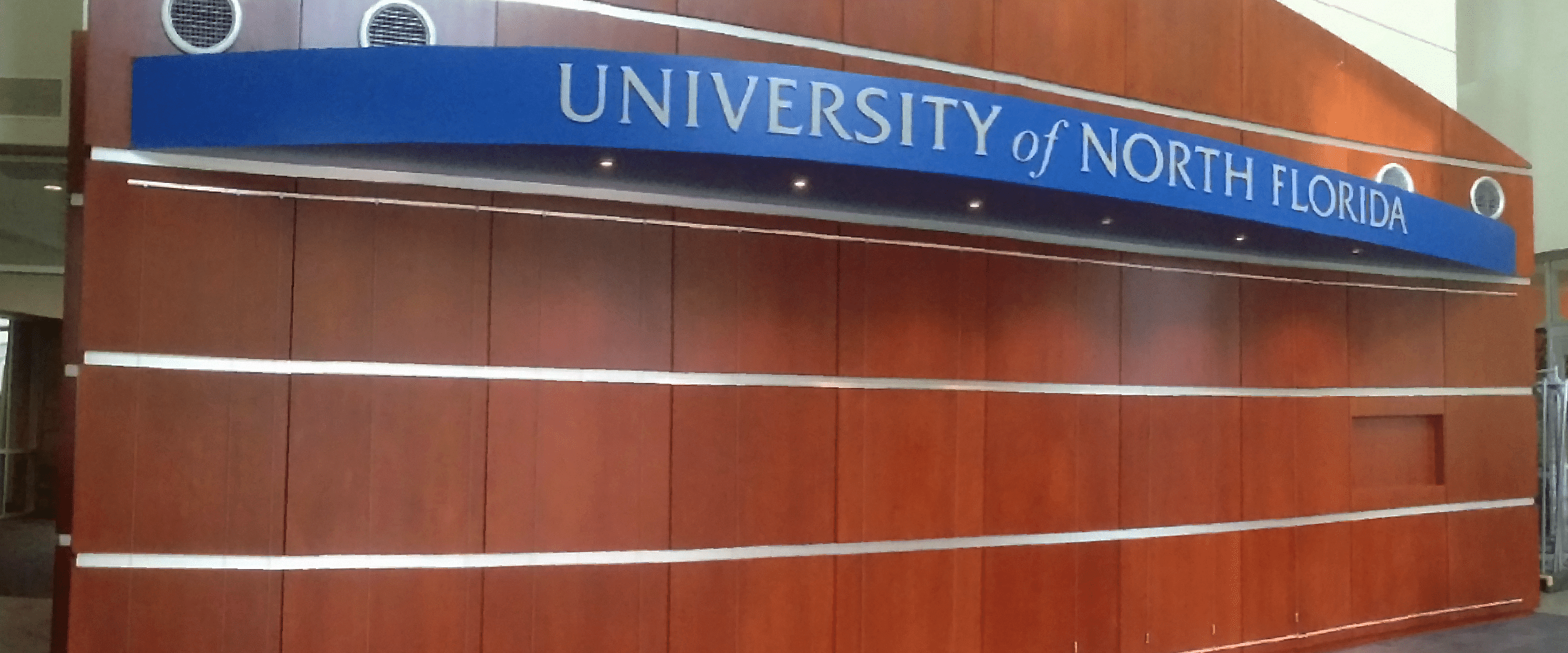 There's nothing like making a grand entrance, and for the University of North Florida, Kerfkore's panels were instrumental in welcoming students, faculty, and staff to one of the campus's buildings.
Our curved panels were used for the University's interior signage and entrance wall, both of which were rounded to give a more dimensional look to the piece. Added recessed lighting hanging from underneath the sign helped to illuminate and brighten the space, as well.
Washington University Brown School of Social Work in St. Louis Missouri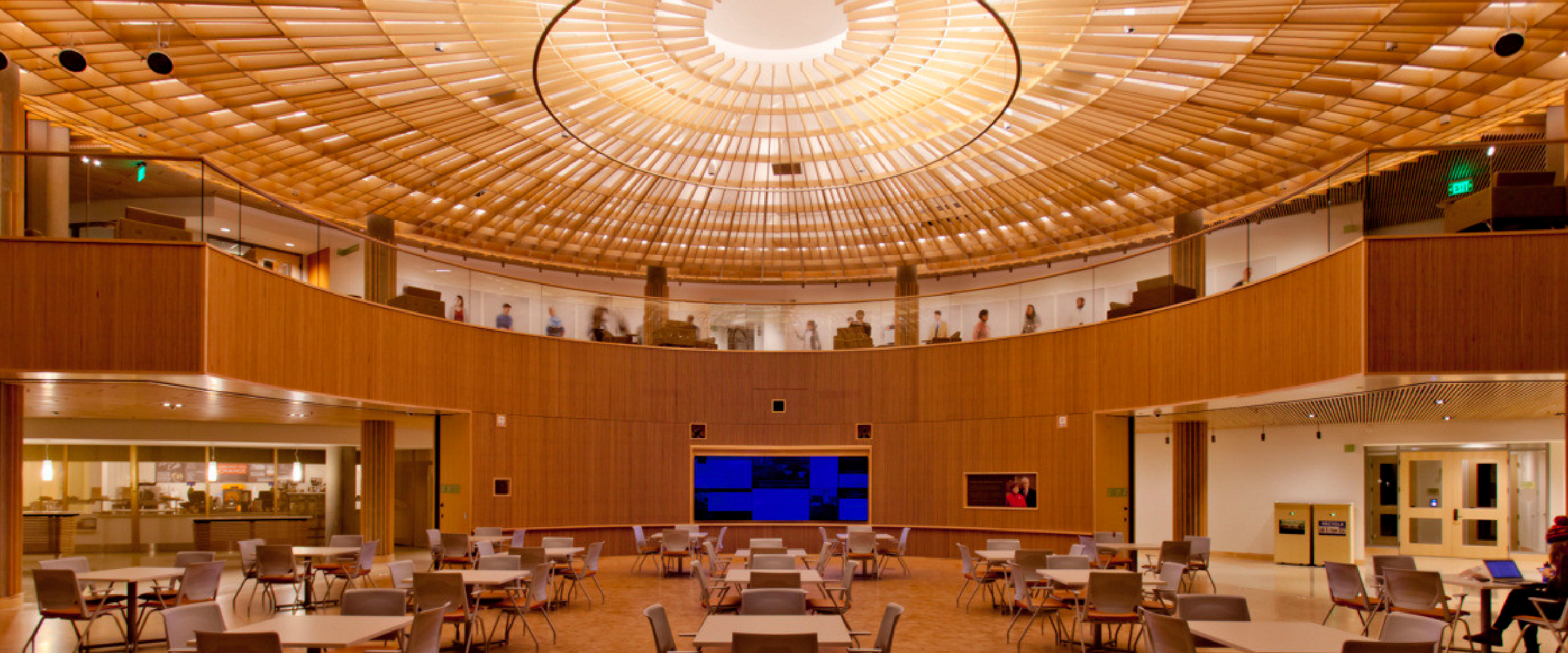 If you ever have the opportunity to visit Washington University, you're likely to notice the strong Collegiate Gothic architectural character throughout the campus.
This 105,000 square foot building more than doubled the Brown School of Social Work's program space, including seven new classrooms, additional study rooms, 68 faculty offices, five meeting rooms, and a full-service cafeteria. In the center of Hillman Hall, you'll find the Clark-Fox Forum, a massive atrium that hosts a variety of campus and community events. This visually stunning space features incredible woodwork ceilings and glass floor-to-ceiling windows to invite natural light indoors.
ACGI fabricated and constructed the building's intricate wooden ceiling, using Kerfkore's Foamkore® lightweight panels throughout. These panels are able to reduce material weight up to 80%, while still giving the appearance of a light finished wood ceiling. They were the optimum solution for this complex project because they did not sacrifice the necessary support while still offering a lighter panel solution than conventional panel options.
University of Texas, Dallas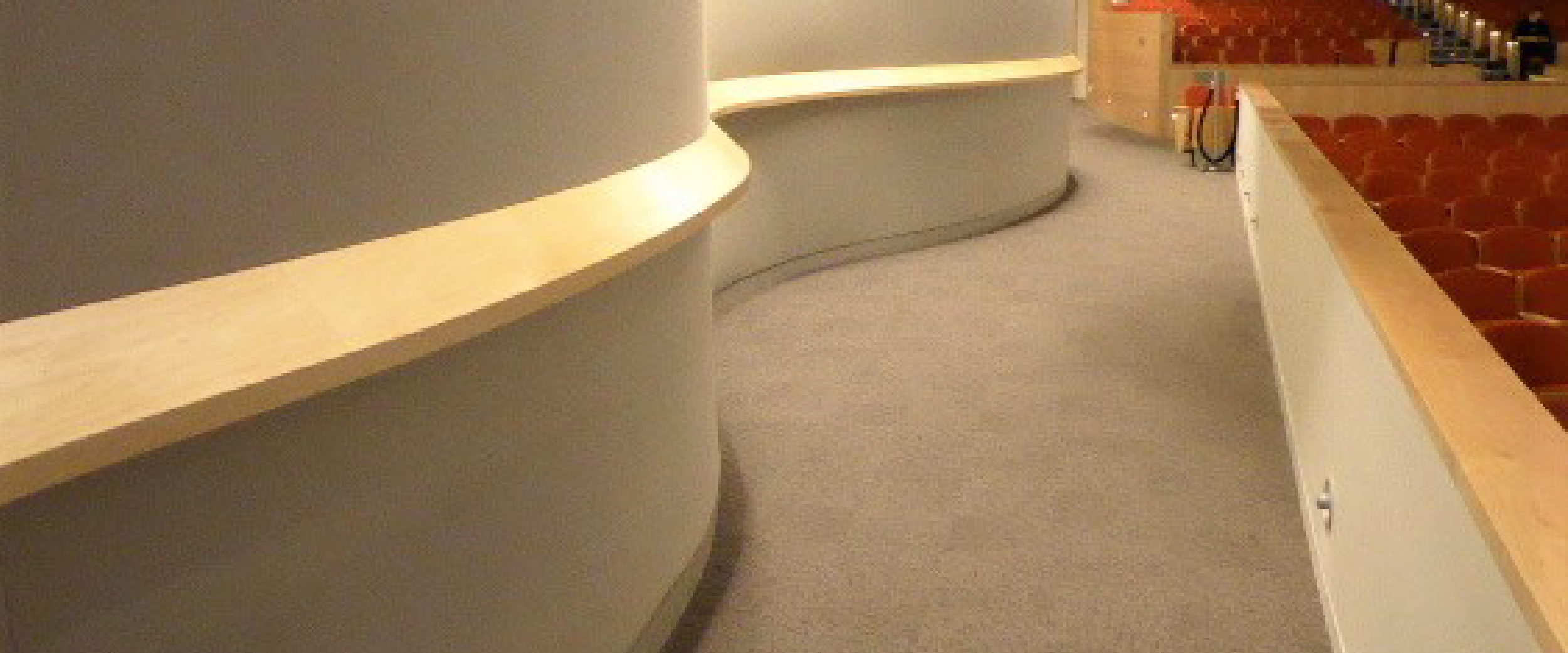 Inside the Edith O'Donnell Arts & Technology Building, a 155,000 square foot space that houses the visual arts, emerging media technology, and multimedia communications programs for the University of Texas, lies the ATEC building. This hall can seat up to 1,200 people and hosts a variety of lectures, multimedia presentations, and musical performances each year. In order to serve its purpose well, the space had to be carefully constructed with acoustics in mind.
Kerfkore's flexible panels were used in the curved hand railing along the curving walls throughout this massive hall. The project, involving 175-feet of curved railing, was a challenge, but our flexible panels still achieved a tighter bend, with more consistency and dimensional stability than conventional options. Technocraft was able to affix a veneer finish to the panels that works well with the rest of the hall's aesthetic design.
Eric Fisher Academy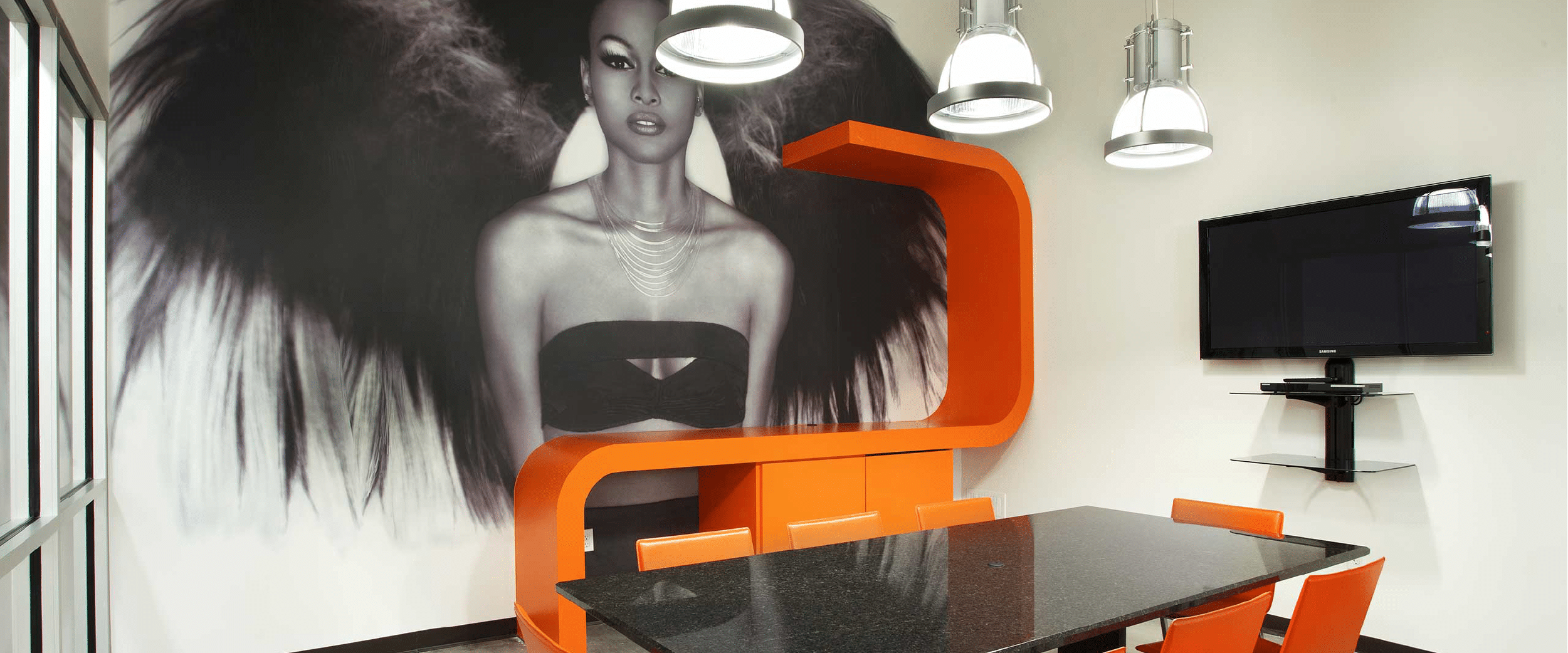 When Eric Fisher Academy wanted to implement a curved display and curved desk features in their Career Center, Kerfkore had the right solution. The Academy's Career Center acts as a quiet space away from the salon floor, so students have the opportunity to study, work on homework, take tests, or research their next project.
Our Timberflex® flexible products were used on the curved edges of these desks and displays, after being combined with solid substrates, to make a modern, fluid desk and display design that infuses creativity into the Career Center.
If you're currently looking to upgrade or renovate an educational space, you may want to consider integrating any variation of Kerfkore's range of flexible and lightweight panel products into your design. Hear how the process works when you talk to a Kerfkore representative today.