INFORMATION ABOUT
WORKLITE EPS FOAMKORE
Worklite EPS Foamkore reduces material weight up to 80%* by capturing a lightweight core between two thin high-density faces, resulting in a strong lightweight panel with structural integrity. Core material is a dense closed-cell Styrofoam that provides moisture resistance, thermal performance and compressive strength. Some panels can weigh as little as 12 oz/sf while still providing a 1/8? plywood faced panel to achieve a ?? overall thickness. Panels can be covered with high-pressure laminates, veneers, metals and many other semirigid materials as well as stained or painted.
*Compared to conventional panels made of plywood, particleboard and MDF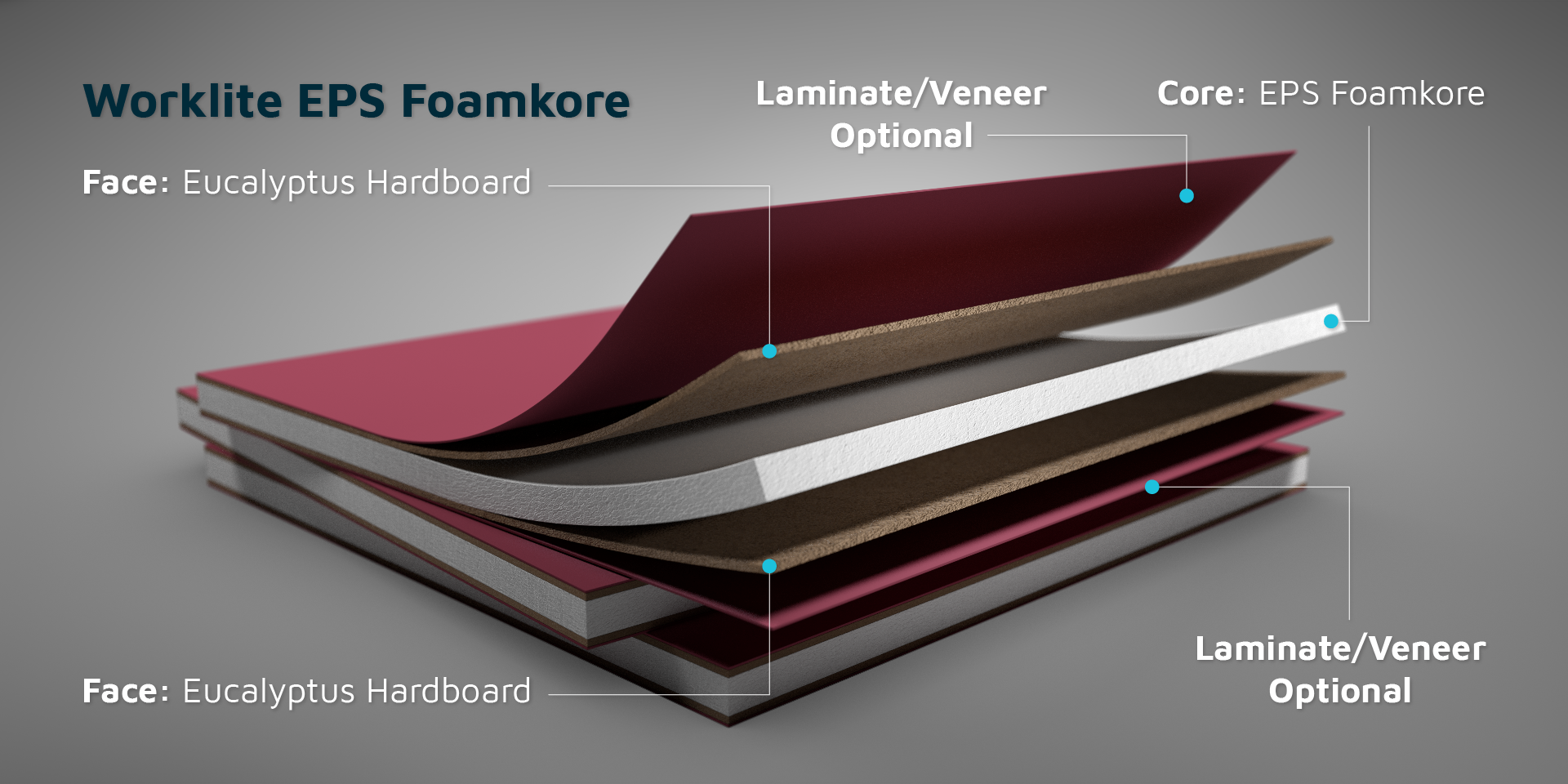 Face Materials
Eucalyptus Hardboard (Standard)
Fiberboard
3-Ply Italian Poplar Plywood
Core Materials
Expanded Polystyrene (Standard)
Fire Rated Option
Expanded Polystyrene
Flame Spread Rating: ASTM E 84: Class A (core only)
Flame Spread Rating: ASTM E 84: Class A (core only)
Forest Stewardship Council (FSC) Certified Option
Nominal Thickness
| | 1/2" | 5/8" | 3/4" - 3" |
| --- | --- | --- | --- |
| Expanded Polystyrene | | | |
Panel Sizes
| | 48" x 120" | 48" x 96" | 60" x 144" |
| --- | --- | --- | --- |
| Expanded Polystyrene | | | |
Decorative Surfacing Materials
High Pressure Laminates
Veneers
Metals
Paint
Adhesive Option for Lamination
Recommended when using a J-Roller
Recommended when using a Press Machine
Attachment Methods
PVA glue or staples recommended
PRODUCT TESTIMONIAL
WHAT OUR CLIENTS ARE SAYING?
?In using Kerfkore products, I find it has saved me in time and labor over traditional methods. It gives me a consistent result every time. It also has expanded our ability to be creative for the customer.?
Roger Smith?| Third Day Creations