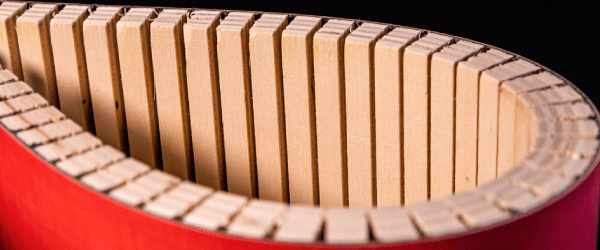 Answering Your Most Frequently Asked Questions About Kerfkore
October 25, 2023
Today, we're diving deep into the world of Kerfkore flexible products, where we'll be answering your most frequently asked questions. In this blog, we'll explore which Kerfkore product suits your project best, discuss key factors to consider when making your choice and provide expert insights into attaching, edge banding, finishing, and purchasing these innovative panels.
If you're in search of answers, you've come to the right place: we understand that every project is unique — and that's why we're happy to answer any and all questions that you might have during every stage of your project.
So, let's unravel the ins and outs of Kerfkore's products together!
Which Kerfkore flexible product is going to work best for my project?
We understand that every curved project is going to be different, which is why Kerfkore offers four different flexible products that you can choose between for your specific project —Kerfkore, Timberflex, Flexboard, and Econokore.
Depending on your project's requirements and needs, here are a few questions that you should consider when deciding between Kerfkore's flexible products:
What is the radius requirement for your curved application?
How do you plan to fabricate the curved panel? Laminate flat first or form first?
What panel sizes or thicknesses are required for the project?
Are there any special material requirements, such as sustainability or fire ratings that must be considered?
How do you plan to finish the paneling?
Once you have determined this information, Kerfkore's team of experts can help you determine what panel will work best for your project.
Need more information to make some decisions? Check out the product comparison guide that shows all the information that you need to know when determining what panel works best.
But if you're still unsure, we would love to talk with you. Give us a call!
What's the difference between "Barrel Bend" and "Column Cut" panels?
The primary difference between the "Barrel Bend" and the "Column Cut" paneling is the direction in which the board will bend. The term "Barrel Bend" describes an 8′ x 4′ panel size that will stand 4′ tall and wrap around like a barrel, with grooves running up and down the length.
The term "Column Cut" describes a 4′ x 8′ panel size that stands 8′ tall and wraps like a column, with the grooves running up and down the length.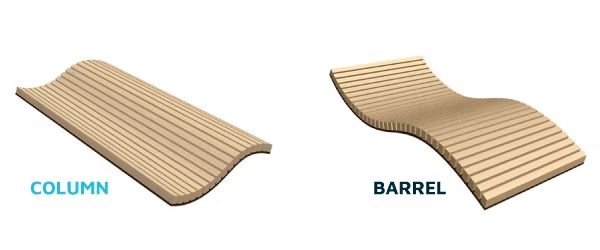 Looking for a visual demonstration between these two bends? Check out this video to see both the Column Cut and Barrel Bend panels in action.
How do I attach Worklite Foamkore to a framework?
Worklite Foamkore reduces material weight significantly — up to 80% — by capturing a lightweight core between two thin, high-density faces to create a strong, lightweight panel that's still structurally sound. Its rigid face materials also provide the ability to use conventional methods of attachment, such as glue, nails, screws, and other similar fasteners.
Depending on your project requirements, you'll have to decide which of the following is the best approach:
Adding a through-bolt across the panel to attach it to the structure
Using adhesives or glues to attach the panels to the face of the framework
Creating framing or internal bands within the panel itself to allow for attachment to the structure (the optimum solution for extra reinforcement and increased surface area for mounting hardware installation)
If you opt to use the third approach, these framing or internal bands can be added by our team during the manufacturing process or can be added at a later time in your shop.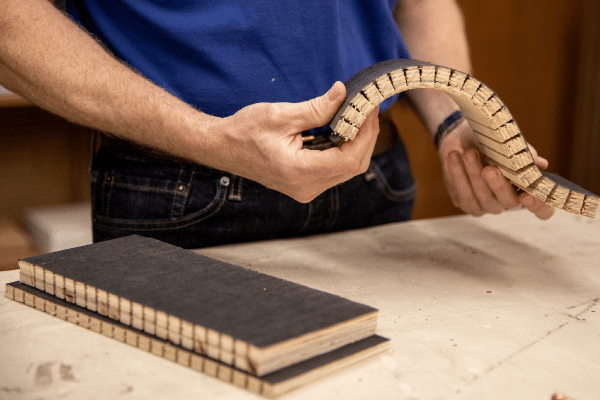 How do I edge band Worklite Foamkore?
Edge banding is a common finishing technique for furniture and cabinetry, as it covers up the rough edges on manufactured wood and plywood panels. Beyond its appealing look, edge banding is important for protecting panels from moisture damage and improving their overall durability by offering additional impact resistance.
Edge banding is the perfect finishing touch when you're working with our Worklite architectural panels. While fabricators can edge band our flexible panels using standard methods and adhesives, these lightweight panels have a few special requirements, including:
With built-in wood framing, you would edge band as is, using standard methods.
With exposed Foamkore edges, you have a few options:

Using a router to remove foam edges before attaching the wooden edge with glue and using standard edge banding methods.
Running two panels through an edge bander without removing the foam edges — we recommend only using banding materials with 2mm to 3mm thickness in this scenario.
Apply the banding material by hand, using a water-based adhesive.
Looking for a more comprehensive overview of edge banding? Check out Kerfkore's Edge Banding Tip Sheet to answer all of your questions.
How do I apply a finish to Kerfkore panels? Are there any special requirements I should be aware of?
Before answering this question, it's important to determine which Flexible or Lightweight Kerfkore panel you will be working with because depending on the panel, your choice of finishes or how they are applied may vary slightly. 
Head over to our video gallery to learn the ins and outs of finishing the different types of Kerfkore panels:
You can also check out the individual Spec Sheets for each product line to ensure you're working with the correct finishes.
Where can I purchase Kerfkore products? What's the cost of Kerfkore products?
You can find Kerfkore products through our extensive North American distributorship program. Over the last year, we officially launched our Stocking Distributor Program which makes it easier than ever for you to find all of the Kerfkore products you need when you need them. These stocking distributors have most of our standard SKUs on their shop floor, so you can easily locate a local distributor in your area with this map to grab panels for your next project.

A Final Word for our Pros
Whether you're new to working with Kerfkore products or you're simply trying something that you haven't done with our panels before, we always recommend testing it out on a smaller sample size first. You can either use smaller scrap pieces from the project or request samples from our team to do so. This way, you can ensure that the application you're trying to achieve will perform in the way you envisioned it to!
Still have a question in need of an answer? Check out our extensive FAQs page or contact us directly for more information.