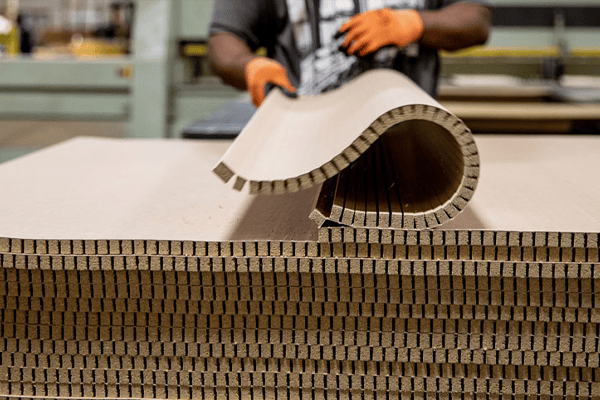 Inside the Quality Materials of Kerfkore Products
October 14, 2022
Every architecture project begins with a design and materials. While we can't draw your next blueprint, we can make sure you'll be working with the best materials available.
Since 1984, our products have been manufactured in the USA with a meticulous and rigorous process that only the highest quality of materials can withstand. From the face materials of our flexible panels to the cores of our lightweight panels and down to the finger-jointed poplar of our custom products, each component is carefully selected and tested for quality.
When you use Kerfkore products in your project, you know you're receiving a finely tuned panel with materials engineered to be less affected by exposure to elements, such as moisture. We believe architecture should be built to last. Here's what some of our most popular products are made of.
Kerfkore Product Materials
Architectural Panel Faces
The face of the architectural panel is the component that'll be most exposed, meaning we select materials that are durable and compatible with your desired aesthetic.
LTX Flexible Backer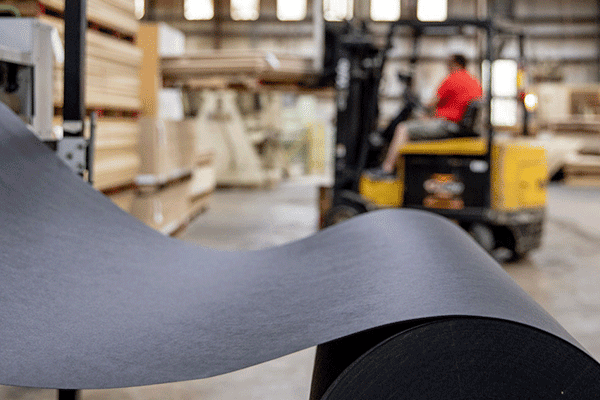 The extremely pliable and strong LTX Flexible Backer is specially built with latex-impregnated paper to work exclusively with our flagship Kerfkore flexible panel.
21 mil thickness
FSC® certified (License # FSC-C008429)
High tensile, tearing, and bursting strength
Compatible with high-pressure laminates, two ply/phenolic backed/20mil paper backed veneers, and many other semirigid finishes
Eucalyptus Hardboard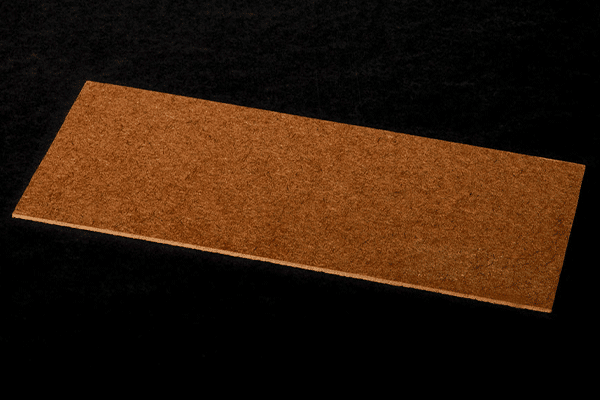 Sourced from Brazil, our Eucalyptus Hardboard is one of the only hardboards available with its unique combination of thickness and high quality.
100% recovered and recycled fiber content
FSC certified (License # FSC-C008429)
Compatible with high-pressure laminates, veneers, paints and many other semirigid finishes
3-Ply Italian Poplar Plywood
The 3-Ply Italian Poplar Plywood is one of the highest grade poplar plywoods available, with nearly zero core voids and a high-quality veneer perfect for finishing. It's known for being incredibly light and sustainably sourced from wood that regrows in ten-year cycles and never comes from natural forests.
⅛" thickness with 3-ply construction
Compatible with high-pressure laminates, veneers, paints, stains and many other semirigid finishes
Available with Timberflex and Worklite
Architectural Panel Cores
The cores of Kerfkore architectural panels are built to withstand our intricate manufacturing processes while providing the structural strength necessary to implement a variety of designs.
Particleboard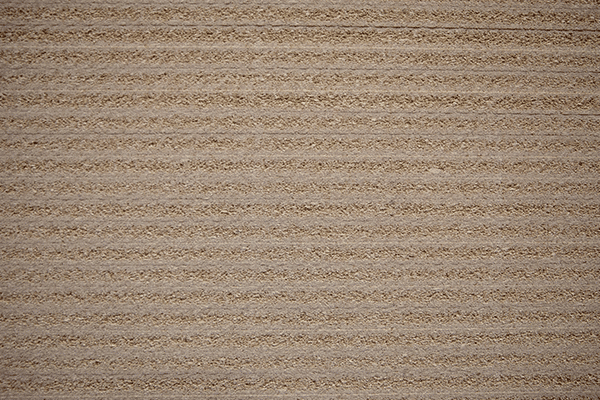 Due to Kerfkore's rigorous quality assurance, only the strongest particleboard is used in our products. Most of the typical particleboards available in retail stores would not withstand our kerfing process due to their material composition.
100% recycled or recovered wood fiber
Available with FSC certification (License # FSC-C008429)
Fire Rated
Available with Kerfkore, Flexboard, and Timberflex
Italian Poplar Plywood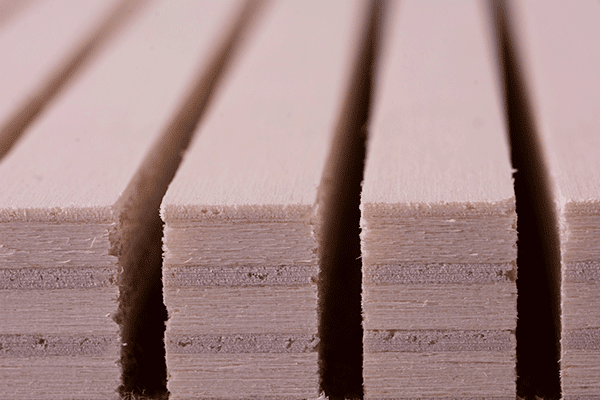 Similar to the 3-Ply Italian Poplar Plywood Face Materials, the Italian Poplar Plywood core is lighter than other traditional plywoods and features virtually no core voids, which is essential for the efficiency of our kerfing process.
Extruded Polystyrene (XPS Blue Foam)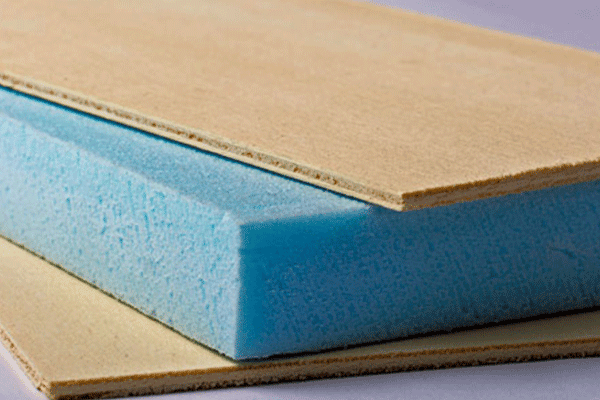 XPS Blue Foam is created by feeding solid granules of polystyrene resin into an extruder, along with critical additives to form a fluid. The plastic is expanded and then forced through a die to form the desired shape under carefully controlled heat and pressure conditions. This process produces a sturdy foam with a dense closed cell structure, which creates smooth and consistent edges.
Moisture resistant
Thermal resistant R5 for 1″
Paintable edges
Fire Rated
Available with Worklite XPS Foamkore
Other Materials
Glue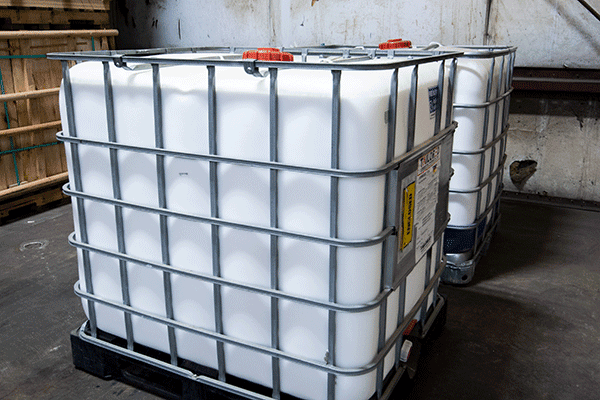 Our PVA glue is specially made for use in all Kerfkore products
Water-based and moisture resistant
Solid Finger Jointed Poplar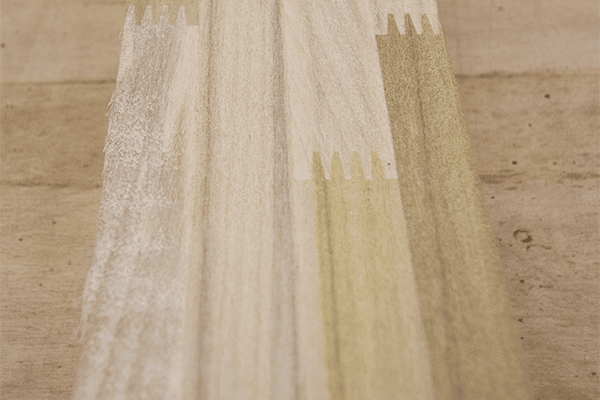 A finger joint is a set of interlocking pieces of wood, which resembles the locking of two hands. With two sides to apply glue, our Solid Finger Jointed Poplar results in a very strong bond.
Used in all of our custom framing and internal banding applications with our Worklite panels
Reduces the likelihood of warping and provides an extremely stable base frame
The Kerfkore Process
We call it the Kerfkore difference. We build our products to exceed customer expectations and thus we demand the best processes, which in turn demand the highest quality products. Here is how Kerfkore products are built:
Flexible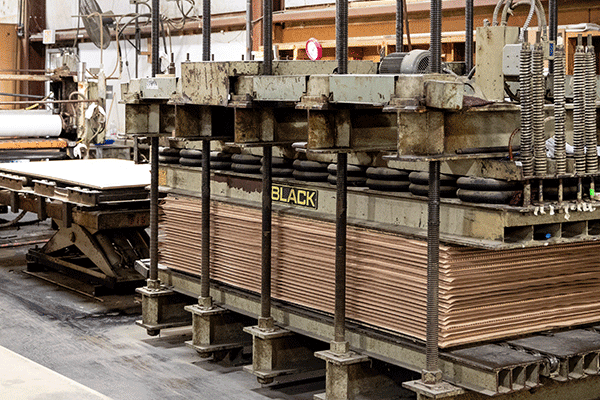 One of the key features of our panels is their flexibility. In order to achieve reliable flexibility without compromising the materials, we use our signature precision cut, providing stability while allowing the panel to bend. This process ensures consistency and symmetrically cut cores, every time.
Unlike other kerfing processes which use partial cuts, we utilize through cuts, which greatly reduces the risks of telegraphing. This means your Kerfkore panels will be able to flex while maintaining their smooth finish.
Lightweight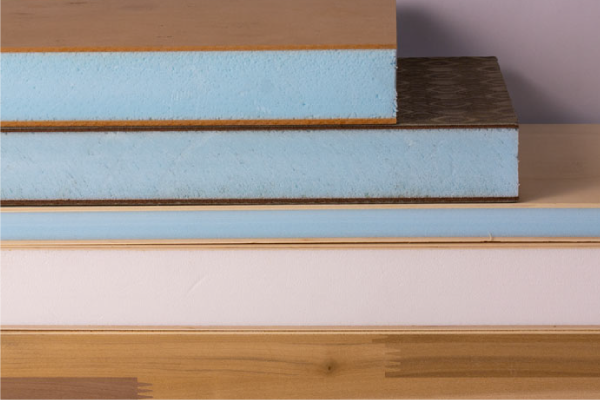 To ensure our panels are lightweight and aesthetically pleasing for years, we manufacture them under strict tolerances. Once constructed, we then utilize elevation rods that separate every panel and allow airflow on each side. The panels are placed in a humidity-controlled room for 24 hours – allowing them to become completely dry and moisture free. This prevents additional moisture weight and delivers a stable and balanced panel that will not warp.
For over 30 years, we've been forming life-long partnerships with our customers – thanks to our customer service and our high-quality process and materials. We believe so strongly in the quality of our product, that we'll send you a sample for free.