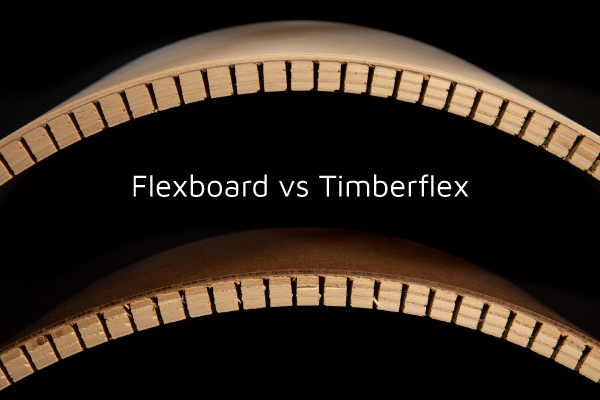 6 FAQs About Flexboard and Timberflex
April 14, 2022
At Kerfkore, we're passionate about bringing fine, flexible, and natural aesthetics to fabricators, architects, and designers everywhere to fulfill their design vision.
This means we've developed a variety of products to fill a variety of needs. Two of our products, Timberflex and Flexboard, are shining examples of the adaptability of Kerfkore flexible wood panel products. Because they're so versatile, we often get questions from customers about which of these flexible wood panels are best for their project. Both Timberflex and Flexboard offer dependable performance and consistent, uniform thickness, and beautiful curves – so what are the key differences?
We've written responses to 6 of the most frequently asked questions about the differences between Timberflex and Flexboard. If you're debating on which is right for you – take a look at our answers and see how each might apply to your project.
What is the Bending Radius of Timberflex and Flexboard?
Bending radius is one of the first attributes that come to mind when working with flexible wood panels. All of Kerfkore's flexible products bend to a certain degree but some are built for more extreme curves than others.
In this case, Timberflex allows for a 5" bending radius and Flexboard allows for an 8" bending radius. This means Timberflex is better for projects that need a tighter radius and Flexboard is ideal for projects that need a slightly less dramatic curve.
How do the Face Materials Differ?
The bending radii of Timberflex and Flexboard are determined by the flexibility of their respective face materials. But there are some other key differences between Timberflex's Italian Poplar Plywood and Flexboard's non-oil-based Eucalyptus Hardboard face.
Italian Poplar Plywood
1/8″ Wood board face
3-Ply construction
Higher grade face veneers
Fewer core voids than traditional plywoods
Lighter weight face material
Eucalyptus Hardboard
0.08″ Composite wood face
Consistent and smooth board
NAUF certified
How about panel size?
Another key difference between Timberflex and Flexboard is the available sizes. Here's what we offer for each:
It's important to remember what the order of the numbers designates beyond just the size of the wood panel.
The difference between 4×8 and 8×4 is the direction in which the board will bend. When bent a 4×8 will stand 8′ tall and wrap like a column. The 8×4 panel size will stand 4′ tall and wrap like a barrel. The second number also designates the direction of the grooves. On a 4×8 the grooves run the 8′ length and on an 8×4 they run the 4′ length.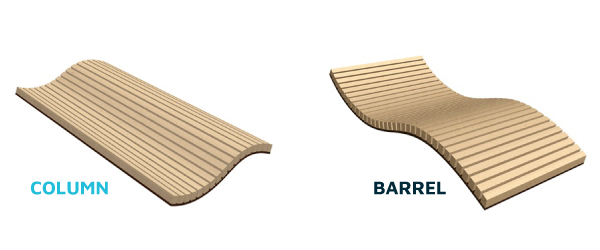 Which Type of Finishes Work Best with Flexboard or Timberflex?
Like the icing on a cake, the finish is of the utmost importance for projects that want a great aesthetic.
Luckily, both Timberflex and Flexboard are built to work with multiple, desirable finishes. Laminates, veneers, metals, and leathers all work great with each.
When it comes to staining, you'll want to rely on Timberflex. Timberflex's 3-Ply Italian Poplar Plywood face is produced under strict standards and tolerances, which creates a high-quality veneer perfect for staining.
If you're planning on painting your wood paneling, then it comes down to the desired finish. Timberflex's Italian Poplar Plywood face makes it an excellent option for wood grain painted finishes and Flexboard's Eucalyptus Hardboard face is ideal for smooth painted finishes without grain.

How Can I Lay Up The Product?
Both Timberflex and Flexboard are designed to be formed to their framework first and then laminated. This will achieve the tightest radius for both products.
If you do need to lay up the product flat first and then form – Flexboard has the capability. This method will restrict Flexboard's bending radius to only 16″. Also, we only recommend using a single-ply or 10mil paperbacked veneer if pursuing this route. These are the only finishes that will still give you enough flexibility to form the product once it has already been laminated.
Are Flexboard or Timberflex Sustainable Options?
Flexboard's NAUF particleboard core and Eucalyptus Hardboard face material are made from 100% recovered and recycled fiber content making both face and core components sustainable options. Although Timberflex's Italian Poplar Plywood face does not have any notable sustainable qualities,  Timberflex can be supplied with the NAUF particleboard core as well.
---
Reviewed the questions and still aren't sure whether to go with the wider size variety of the Flexboard or the high-quality Italian Poplar Plywood of the Timberflex? Our team is more than happy to walk you through your project and help determine which is right for you. Or if you want to see these materials in action before you buy, you can request a sample.