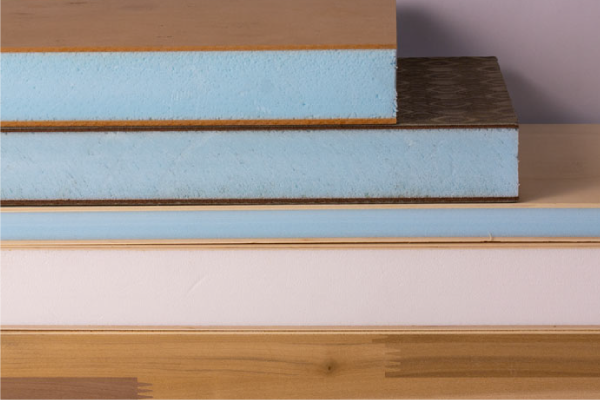 All About Lightweight Sandwich Panels
February 7, 2022
When we think of the greatest feats in architecture, we think of structures that seem to defy gravity or support an impossible amount of weight like skyscrapers or suspension bridges. In order for these structures to stand, they have to be incredibly efficient and purposeful with how their weight is distributed.
When it comes to interior architectural design, we can achieve this key principle of architecture with the unassuming but mighty sandwich panel.
What is a Sandwich Panel?
A sandwich panel is a three-layer structure, with the two outside layers consisting of a thin, rigid material and the middle layer consisting of a thicker, lightweight material.
The materials used may vary depending on the sandwich panel's purpose but ultimately this configuration should create a panel that becomes greater than the sum of its parts.
Sandwich panels can be useful in architecture because the outside layers provide durability and the inside layer keeps the panel lightweight, creating an easily customizable and adaptable panel.
Understanding Why Weight Is So Important in Architectural Interior Design
Weight is taken into consideration for interior architecture because it affects:
Strength to Weight Ratio
Longevity
Portability
Cost
Typically, we assume the heavier a material is, the more durable and stronger it'll be. Innovations in engineering, science, and design have made it so this is not always the case. Think of medieval knights wearing heavy steel armor for protection, today's soldiers are more prone to wear Kevlar, a synthetic fiber that is up to five times stronger than steel when comparing strength to weight ratios.
Portability is also affected by weight, lighter materials are easier to handle and transport, which means a safer and more adaptable work environment.
Working with lightweight materials can even reduce costs. There's less of a need for reinforcing materials, potentially fewer costs for transportation, and lower labor installation costs.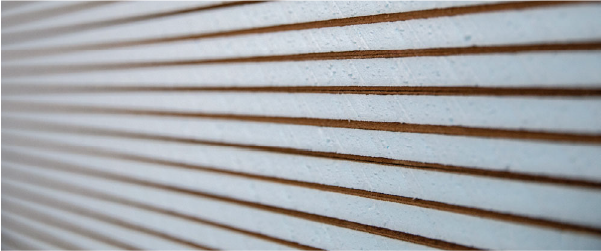 Types of Lightweight Materials
We understand why weight is so important when it comes to architectural interior design and how a sandwich panel creates a lightweight panel that is stronger than the sum of its parts. So what are the cores of these wonder panels actually made of? Here are some of the most common.
Cellulose Paper/Cardboard Honeycomb Core
Usually produced from recycled cardboard, this core has a honeycomb pattern that makes it lightweight, high in compressive strength, and low cost. Just like how bees make the most of their resources, honeycomb cores utilize an efficient shape to yield a high strength-to-weight ratio and compressive strength.

Polycarbonate Honeycomb Core
As opposed to cellulose paper or cardboard, polycarbonate honeycomb cores consist of a type of plastic made from synthetic resin. The plastic allows the core to be an effective thermal insulator.
Aluminum Honeycomb Core
The most rigid and strongest of the honeycomb core materials listed here, aluminum does also tend to be the most expensive.
Polypropylene Plastic Core
Polypropylene plastic core is made from tough, versatile polypropylene plastic. It is strong, stiff, and light.
Expanded Polystyrene Core
Expanded Polystyrene, also known as EPS foam, is a white foam plastic made from expanding polystyrene beads with steam and bonding the beads together under pressure. Recycled materials can be used in this process making it a sustainable and low-cost core material. It can be up to 70% lighter than wood panels and has low thermal conductivity, high resistance to water penetration, and high compressive strength.
Graphite Enhanced Polystyrene Core
Another foam plastic, Graphite Enhanced Polystyrene Core is produced from the same process as EPS foam but is infused with high purity graphite, giving the insulation a reflective property that significantly slows the transfer of heat and increases energy efficiency.
Extruded Polystyrene Core
Extruded Polystyrene Core (XPS), on the other hand, is another type of foam plastic. While XPS begins with the same materials as its expanded cousin, XPS is fed additives and expands during cooling. Much of its properties are the same, low thermal conductivity, high resistance to water penetration, and high compressive strength.

Lightweight Medium Density Fiberboard (MDF)
Lightweight MDF is a composite wood product often made from tree fibers, resin, and wax compressed under high pressure and heat. It's about 20% lighter than regular MDF but tends to be a less durable product. This product is often used in sandwich panels but can also be used on its own.
Hollow Core Particle Board
Hollow core particle board is made by placing tube extrusions during the manufacturing of solid particle board then removing them when the product is finished, which eliminates much of the weight. It can weigh up to 50% less than traditional wood paneling.
Balsa Wood
As its name implies, Balsa Wood is made from the Balsa Tree. If you've ever handled Balsa Wood, you know it's low in density but surprisingly strong, making it a great material for a sandwich panel core. Balsa wood is five times lighter than traditional particleboard and fiberboard core materials, plus three times lighter than lite core plywood materials. Balsa Wood is a great, versatile material but is currently in low supply due to its use in wind turbines all over the world.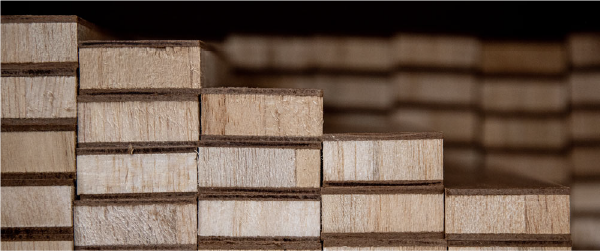 Benefits of Lightweight Materials
While all of these materials are made from different raw materials and through different processes, they are valued in sandwich panels for one particular attribute: they're light weight. But that's not the only reason why these materials should be considered by architects working on their next interior design project. Here are a few more benefits of lightweight materials worth mentioning.
Sustainability
Who doesn't get a warm, fuzzy feeling when doing their part to protect Mother Nature? Now you can experience that same feeling when designing interior architecture. A good portion of the sandwich panel cores we just covered (Extruded Polystyrene, Expanded Polystyrene, and Cellulose Paper/Cardboard) can be made from recycled materials, making them environmentally responsible options for architects.
An indirect way that lightweight materials are more sustainable than other paneling is the cost of transportation. It's a lot easier for a truck and thus uses a lot less fuel to transport a load of lightweight sandwich panels than it is for a heavier load of solid paneling.
Also, sandwich panels and their lightweight cores can be effective as insulation which is a good way to save on energy costs.
Design & Flexibility
Unlike heavier and clunkier materials, lightweight sandwich panels allow for easier design and flexibility. Anytime a lightweight panel has to be moved because of changes in design or undergo further fabrication it's that much easier to do than it would be with a heavier panel. Depending on the project, handling of lightweight panels may be performed by fewer workers versus requiring equipment to handle heavier materials.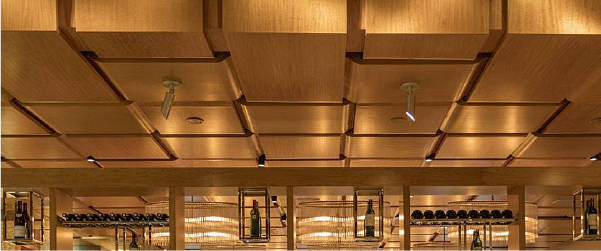 Lightweight Materials Applications
Speaking of design and flexibility, lightweight sandwich panels are incredibly versatile in their applications. Here are some of the most common ways they are used:
The retail industry for shelves and displays
The commercial industry for overhead or acoustic panels and oversized doors
The tradeshow industry for booths and displays
The recreational vehicles industry, especially for custom coaches
The healthcare industry including medical mobile units (such as the Blood drive mobiles)
The marine industry, including superyachts and luxury vessels
Wall paneling
Ceiling paneling
Door paneling
Tabletops
Utilizing lightweight panels is only limited by an architect's creativity. One of our favorite uses of our lightweight materials was on the set of one of The Fast & Furious movies, where 400 sheets of our Worklite EPS Foamkore were used as temporary flooring and walls for the set. We're still hoping Vin Diesel will autograph one.
Designing and working with lightweight panels opens up so many possibilities for architectural interior design. Most architectural projects struggle to find the right balance between light weight and durability, with lightweight sandwich panels you can have the best of both worlds.
If you need inspiration check out our project gallery or reach out to our team for guidance on your next project. If you want to feel and experience exactly how lightweight and sturdy our lightweight panels are, request a sample!