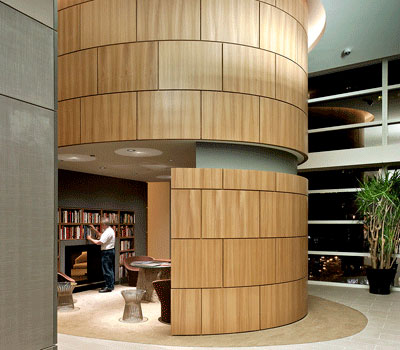 Project Flashback: 500 Lake Shore Drive Apartments
February 11, 2022
500 Lake Shore Drive Apartments is a 45 story luxury apartment building that sits on sparkling Lake Michigan in Chicago, Illinois. At the top of the building, you'll find not only a rooftop pool but shaded cabanas that overlook beautiful downtown Chicago. Related Midwest, the midwestern office of a national real estate company, developed the building and wanted to create a warm interior that matched the stunning exterior, gorgeous lake view, and downtown sights. 
Frank Soldano of Related Midwest envisioned a space that felt "timeless, welcoming, residential". Enter D&L Wood Products, an Indiana-based wood fabrication company with decades of experience designing and building creative architectural millwork. 
D&L relied on Kerfkore's wood panels to achieve Mr. Soldano's vision. The wood's natural warmth and soft curves would balance the hard lines of stainless steel, stone, and glass used elsewhere in the project.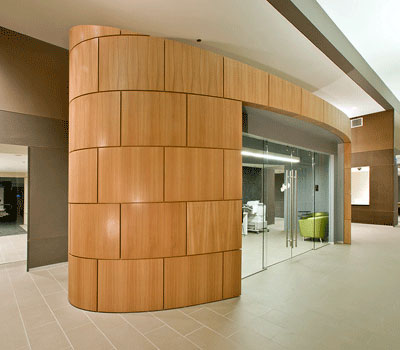 When developing the business center within the main corridor of the amenity floor, its sloped ceilings proved to be challenging for D&L. "The header panels at the entrance were made as a single piece with a curved face and curved bottom and top return that followed the slope and rise of the ceiling. All of these curved panels were also installed with no visible fasteners," recalled Robert Ligda President of D&L to Design Solutions Magazine in 2013. 
Our Kerfkore panels were able to form the curves necessary to conceal the fasteners and follow the slope of the ceilings. The panels were then finished with an Elm veneer that provided a light color and character. This same styling was applied to the column-like library area to create a cohesive and seamless space.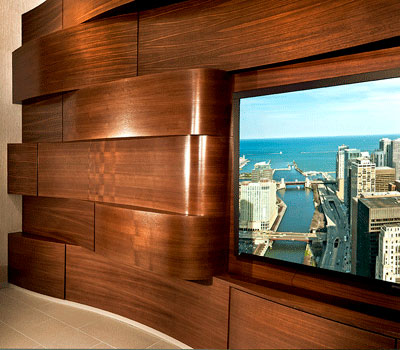 Kerfkore's panels were also used in the building's party room. "The design featured undulating ribbons of wood panels, each row with unique plan dimensions and space for a 70-inch wide television and concealed cabinets to house audio-visual equipment," described Mr. Soldano in Design Solutions Magazine. The wavy panels created a contemporary, creative, and fun look perfect for the party room and were made possible by Kerfkore panels' ability to achieve varying radii. The custom-sized panels were finished with a beautiful walnut veneer. 
Thanks to Kerfkore panels, D&L Wood Products' design and Related Midwest's vision, tenants of the 500 Lake Shore Drive Apartments can now enjoy a striking, modern, and inviting interior that matches their building's Downtown Chicago views.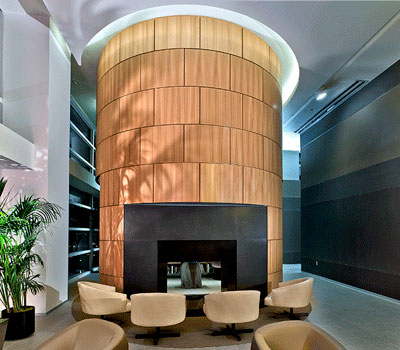 We want to wish a big thank you to all the below partners that utilized and featured Kerfkore panels in their projects.
This project was featured in Architectural Woodwork Institute's Design Solutions Magazine. 
For photos of other Kerfkore installation projects, head over to our gallery.
D & L Wood Products is an architectural woodwork firm located in Crown Point, Indiana. They install casework and wood products all over the country.
Related Midwest is a highly recognized, national real estate developer. They develop mixed-used properties, affordable housing communities, and luxurious apartments and condominiums across the city of Chicago.
Soloman Cordwell Buenz is an architectural, interior design, and planning firm with offices in Chicago, San Francisco, and Seattle. SCB helps its clients achieve their goals, serve their constituencies, and make their mark.
Robert Pope & Associates is a small architectural and design firm in Chicago, IL. Their work reflects a balance between history and modernism
Mike Crews Photography captured the photography seen above for this installation. Mike is a Chicago photographer for architecture, interiors, real estate, landscape design, and retail.