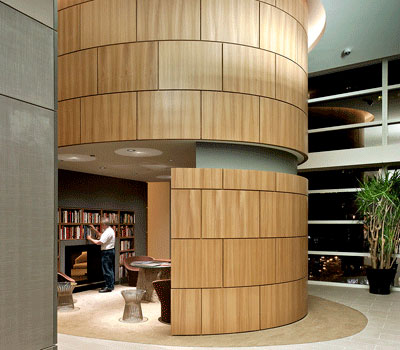 Project Flashback: 500 Lake Shore Drive Apartments
Related Midwest, a national real estate developer, assigned D & L Wood Products the task of fabricating and installing woodwork throughout the 45-story 500 Lake Shore Drive apartment tower. This building sits on a prime waterfront location off Lake Michigan in Chicago, IL.
Related Midwest wanted to create spaces with a timeless, welcoming, and residential feel. They planned to achieve this vision by incorporating woodwork into the overall design. By D & L implementing the warmth of the wood, it would balance out the other materials used in the project such as stainless steel, stone and glass.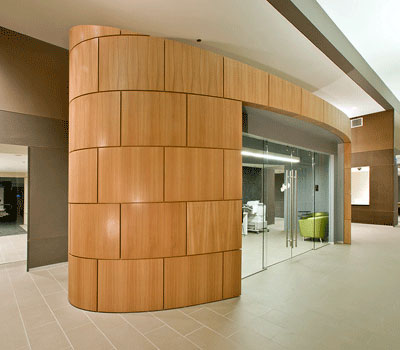 When developing the business center within the building, the sloped ceilings provided a difficult challenge for D & L to overcome. Our Kerfkore® panel had the ability to form the necessary curve while following the slope and rise of the ceiling, showing no visible fasteners. The panels were finished off with an Elm veneer due to its lightness of coloration and character providing a warmth to the space. These panels were also used on the column-like library to create a cohesive space.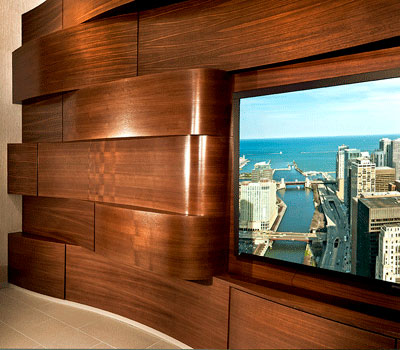 Additionally, D & L was able to efficiently execute the party room's "wavy wall" by using our Kerfkore panels. The panels were formed into a series of complex curves of varying dimensions that would all work together to form this noteworthy sculptural element. The Kerfkore panels were a great fit for this installation due to the varying radii that the panels can achieve as well as the ability to get custom sizes for each panel when needed. They were finished off with a beautiful Walnut veneer.
D & L was able to work collaboratively with the architects at Soloman Cordwell Buenz and the designers at Robert Pope & Associates to create this luxurious apartment tower.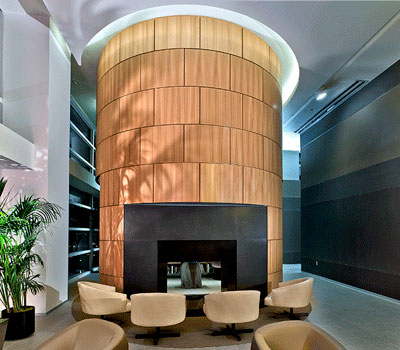 This project was featured in Architectural Woodwork Institute's Design Solutions Magazine. Check it out here
For photos of other Kerfkore installation projects, head over to gallery
D & L Wood Products is an architectural woodwork firm located in Crown Point, Indiana. They install casework and wood products all over the country.
Related Midwest is a highly recognized, national real estate developer. They develop mixed-used properties, affordable housing communities, and luxurious apartments and condominiums across the city of Chicago.
Soloman Cordwell Buenz is an architectural, interior design and planning firm with offices in Chicago, San Francisco, and Seattle. SCB helps their clients achieve their goals, serve their constituencies, and make their mark.
Robert Pope & Associates is a small architectural and design firm in Chicago, IL. Their work reflects a balance between history and modernism
Mike Crews Photography captured the photography seen above for this installation. Mike is a Chicago photographer for architecture, interiors, real estate, landscape design, and retail.