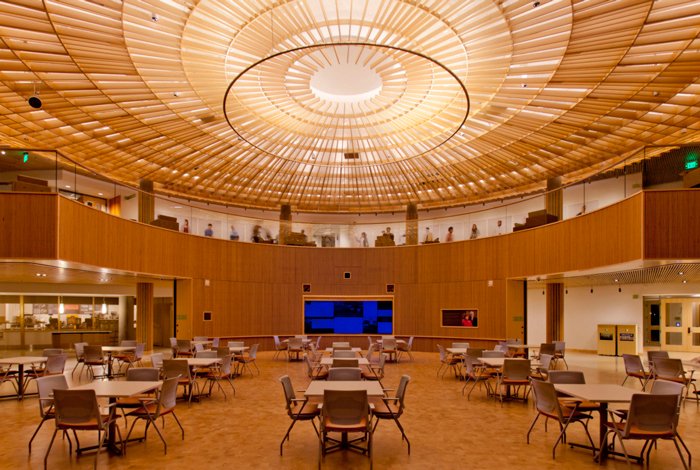 5 Tips For Working With Lightweight Architectural Panels
June 9, 2021
Lightweight architectural panels provide architects and fabricators with many ways to solve their design challenges. We suggest lightweight panel products for projects that involve any or all of the "Three "O's" – oversized, overhead, or overweight. Lightweight panels allow architects to realize their vision beautifully and provide fabricators with an easy material to make it happen.
While our lightweight panels are most frequently used to create ceiling panels, doors, or countertops, they've also been used in some truly creative applications as well (more on this in a minute). Whether it's your first time incorporating lightweight panels into a project, or you're looking to familiarize yourself with some new options for reducing weight, this article will help you understand when to use these products and what to expect when working with them.
Uses And Applications For Lightweight Architectural Panels
Lightweight panels are used by many different industries but they're most often requested by our customers in:
The retail industry for shelves and displays
The commercial industry for overhead or acoustic panels and oversized doors
The tradeshow industry for booths and displays
The recreational vehicles industry, especially for custom coaches
The healthcare industry including medical mobile units (such as the Blood drive mobiles)
The marine industry, including superyachts and luxury vessels
For the retail industry, we've done some large-scale projects, including one that involved supporting a retrofit where we created more than 1,000 floating shelves out of our Worklite® XPS Foamkore® product.
We've also done quite a bit of highly customized work for our clients using our lightweight products. A boutique hotel in Chicago recently asked us to help them remodel their property. The project included many different components, all made from our Worklite EPS Foamkore:
Headboards
Dividers
Doors
Flooring
All of these items were created from our Worklite® EPS Foamkore and were veneered and internally framed.
Probably one of the most memorable projects though, and another great example of creative problem-solving, was when one of the Fast & Furious movies was being filmed in Atlanta. We provided 400 sheets of Worklite EPS Foamkore to be used as temporary flooring and walls for the movie set.
Now that we've looked at a few of the ways our lightweight panel products can be used, let's talk about how best to use them.
For the purposes of this blog, we'll be talking about our Foamkore® and Hexkore™ products specifically.
1. Choosing The Best Lightweight Products For Your Project
When choosing a lightweight product for your project, you should first think about the core. How is it constructed?
Foam panels
Honeycomb panels
At Kerfkore we offer Foamkore (foam panels) and Hexkore™ (paperboard honeycomb)
The cores of our foam panels are fire-rated and reduce the weight by up to 79%. Additionally, foam panels feel solid and substantial – an important consideration if you're building a door or countertop.
Hexkore panels can be utilized similarly to foam panels. Their advantage is that they offer architects and fabricators the option of working with a product with a 100% recyclable paperboard core which can help meet environmental requirements. It's also easier and faster to edgeband.
2. Attaching Foam Panels To The Structure/Framework
We often get questions about how to attach the panels (both foam and honeycomb) to the structure. You'll have to decide which of the following is the best approach:
Through-bolt through the panel and attach it to the structure
Use Adhesives or glues to attach the panels to the face of the framework
Create framing within the panel itself that allows you to attach it to the structure
We are always happy to talk with you about your project and help you decide the best way to attach the panels to your structure.
3. Adding Framing To Lightweight Architectural Panels
When adding framing and/or internal banding to our panels, we typically use solid finger-jointed lumber because it performs the best over time and reduces the likelihood of warping.
We can add custom framing during the manufacturing process to meet your specific needs. Framing will make it easier for you to add mounting hardware for project applications that involve larger and heavier attachments.

4. Edgebanding Lightweight Foam Products
We often tell fabricators working with our lightweight products that you need to be careful if you're going to be using an edgebander. The machine gets hot and sometimes melts the foam panels – so use caution.
Our advice is that if you're going to edgeband without a frame that you should use a material that is at least 1mm- 3mm in thickness. This will create its own rigidity and impact resistance and keep the foam from melting. This doesn't compromise any structural integrity of the component.
You can also use a water-based adhesive to apply edgebanding by hand if you want to skip the machine.

5. Laminating Your Lightweight Panels
If you're going to be applying a veneer or laminate to a Foamkore panel via a cold press, you'll need to use less than 20 psi to lower the risk of crushing the foam.

Get Help With Your Next Project
No matter which type of lightweight panel you choose, you've got a lot of options for finishing and attaching it to the framework.
If you've got a design challenge that can be solved with lightweight panels, get in touch with us. We can help you troubleshoot and provide you with the best solutions.
Your Next Steps: