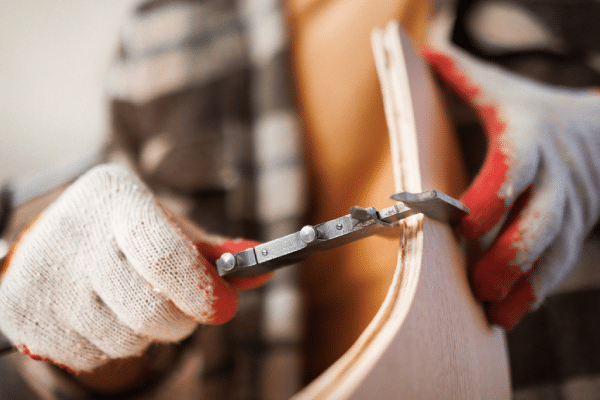 Kerfkore Imposters: Bendable Woods That Don't Measure Up
November 15, 2023
Featured in the latest designer furniture to modern architecture that embraces curves as the foundational motif, curves are undoubtedly in.
As a manufacturer of high-quality, easy-to-use, and reliable flexible panels since 1984 — we're familiar with why curves remain a timeless design choice. We're also familiar with trends and how a rise in popularity can mean a rise in flattering imitation.
That's why we're going to explore all of the most common imposters of Kerfkore, from bending luan plywood to baltic birch, and how you can tell the difference between an imposter flexible panel and the real deal.
The Imposters
There are quite a few types of wood that attempt to duplicate the ease of use, strength, and bendability offered by Kerfkore panels. Of course, none of them quite measure up. Below are the most common imposters of Kerfkore, grouped by the tell-tale signs that they are merely masquerading as high-quality curved products.
Wood Stacked Up in a Trenchcoat
Baltic Birch Plywood/Bending Poplar Plywood/Fiberboard/Tempered Hardboard
Like the old cartoon gag of kids standing on each other's shoulders in a trenchcoat to pretend to be an adult, this collection of woods needs to be layered or stacked to imitate the bending radius of Kerfkore.
Typically, when used for bending, these woods must be quite thin, usually less than 1/8″ in thickness. Thicker sheets will not be flexible enough to achieve a curvy radius. Of course, when dealing with wood that thin, it'll require multiple sheets to remain durable.
The most commonly desired curve thickness we see is 3/4″, which can require up to six sheets to achieve the necessary stability. Six! If you ever see six kids stacked up in a trenchcoat buying a ticket to an R-rated movie, it'll be easy to spot.
How to Spot The Imposter
Stacks of thin wood
Fabricator covered in glue from stacking sheets
Limited bend radius
Plywood — More like Liewood!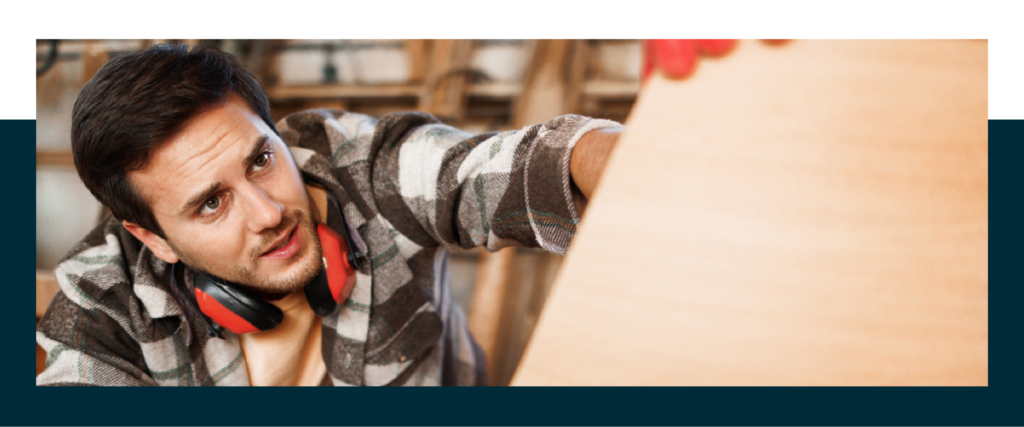 Instead of stacking up multiple sheets of wood, some fabricators opt for thicker sheets of plywood — usually 3/4″. Plywood of this thickness requires fabricators to kerf the wood themselves to make flexible, which can lead to other issues.
Like donning a disguise, using plywood to imitate Kerfkore panels is just way more work than it is worth. We've previously compared using Kerfkore panels to self-kerfing, but below are some of the biggest takeaways.
Kerfing with a table saw or radial arm saw is possible, but becomes more difficult as your project scales. Trial and error is required to achieve your desired radius and maintaining consistent quality is challenging. Telegraphing, when ridge lines appear through the face of the panel, is a common issue in self-kerfing due to repeated partial cuts.
Some fabricators opt for a CNC machine when kerfing in-house, but that also carries its own set of challenges. A CNC machine requires the user to determine the exact number of kerfs and the precise spacing between each — a tedious and timely process. Plus, a CNC machine may require multiple passes to achieve the desired depth, which means more wear and tear on your CNC hardware. To top things off, a CNC machine also brings the risk of telegraphing.
How to Spot The Imposter
CNC Machine or saw nearby
Project finish shows telegraphing (dead giveaway)
An irritated and tired fabricator who spent too much time calculating kerfs nearby
Bending Luan Plywood a.k.a Wacky Wood
Bending Luan Plywood is likely the most commonly used material for curved purposes, but are you really going to trust a wood with nicknames like wacky wood and snakewood?
We will admit that luan plywood can achieve a great bend, up to a 12″ radius. But while it is very flexible, sheets of bending luan plywood are not known for consistent quality. The quality may vary from sheet to sheet, which can lead to broken boards during fabrication and more prep work like patching and sanding.
Bending luan plywood also is typically sold in 3/8″ sheets, which will require at least two layers to achieve the desired radius.
How to Spot The Imposter
The project is surrounded by broken boards
Copious amounts of putty/Bondo
Goes by aliases like "Snakewood", "Wacky Wood" or "Wiggle Wood"
"[Kerfkore Products] provide stronger, better, and more reliable results compared to our old approach where we used layers of 3/8″ bendable plywood. The Kerfkore product line allows our team to focus on what they are really good at doing, rather than dedicating an excessive amount of wasted time on unskilled administrative tasks such as sanding, filling flat areas with Bondo and unnecessary framework. This allows us to offer a better price to our customers."

WALTON SCOTT | QUALITY CABINET & FIXTURE COMPANY (SAN DIEGO, CA)
The Original — Kerfkore Flexible Panels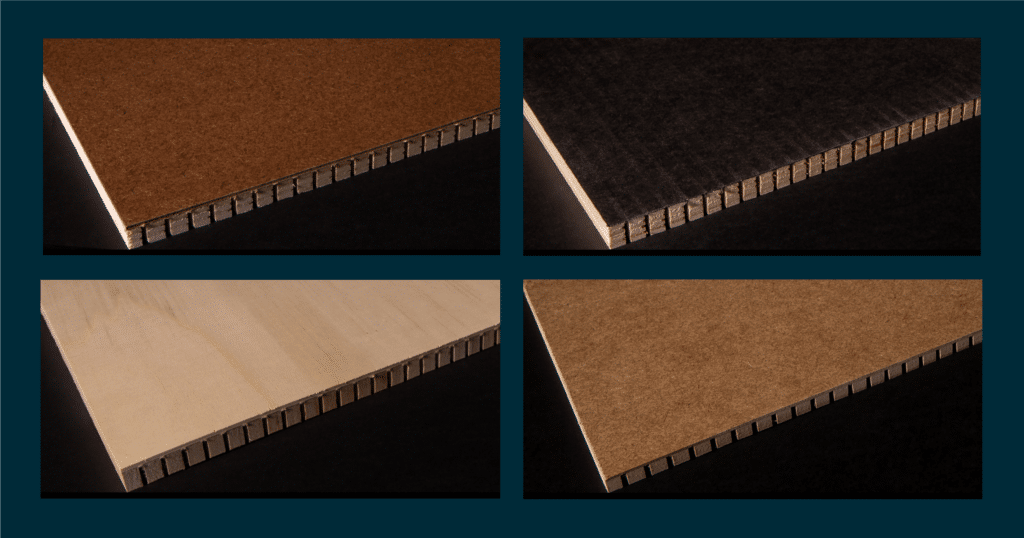 Often imitated, never duplicated. At Kerfkore we offer four flexible panels that can achieve virtually any curve imaginable. Not only are they literally flexible, but they're also flexible figuratively, able to shine in a variety of applications and uses. Below are the biggest ways Kerfkore stands out in a crowd of flexible wood panel imposters.
Easier Fabrication
With our various imposters, a common denominator is the lack of convenience. Bending luan plywood, self-kerfed plywood, and thin wood sheets stacked together all require an investment of time, effort, and know-how. Our Kerfkore Flexible panels are designed to reduce overall project time and increase the ease with which fabricators can work.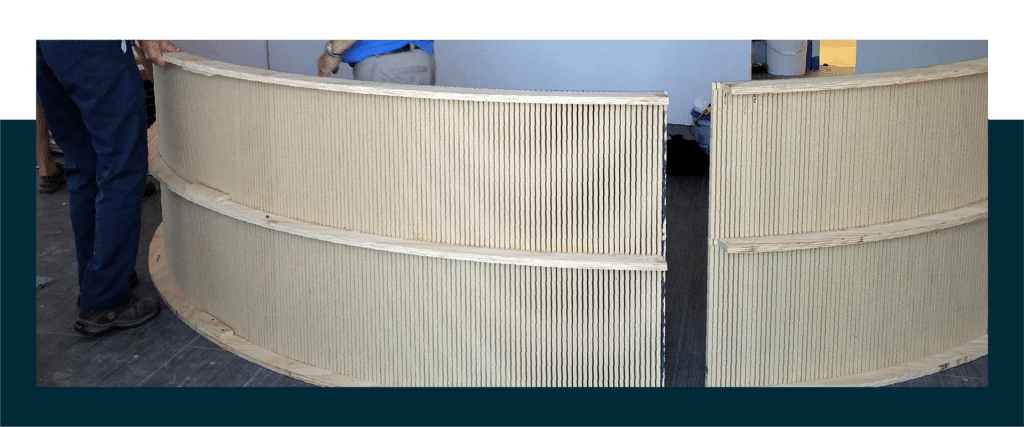 To start, Kerfkore requires a much simpler framework than the imposters, as it relies on mostly horizontal ribs. Kerfkore Flexible panels also require little to no sanding, patching, or use of putty/Bondo — reducing prep time. And you can also expect to reduce your finishing time. Kerfkore Flexible panels allow for easier attachment of high-pressure laminates, veneers, metals, leathers, and other semirigid finish materials.
Better Performance + More Options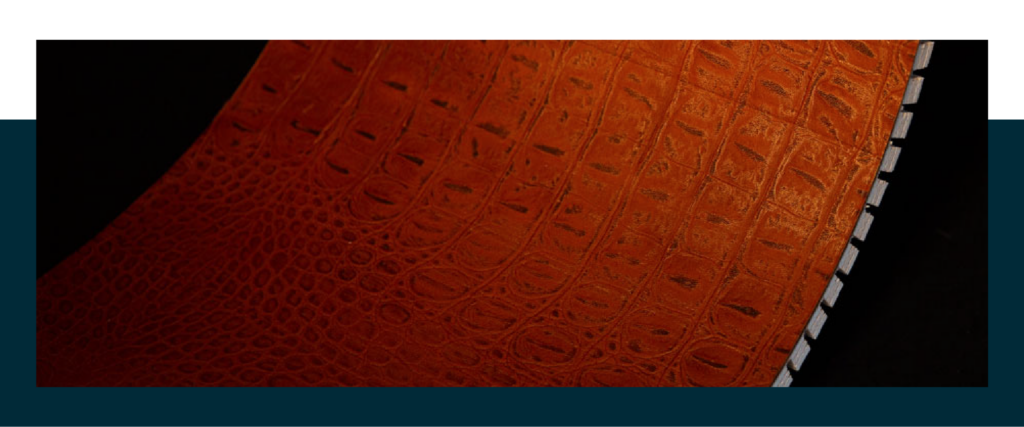 When compared to traditional products such as our list of imposters, Kerfkore Flexible panels bend tighter, with more consistency and dimensional stability.
Plus, depending on your requirements Kerfkore products can be laminated then curved OR curved then laminated — which means more design and fabrication options for your project.
Adding to the flexibility of Kerfkore products is the variety of materials, thicknesses, and sheet sizes available. By itself, our flagship Kerfkore panel is available in six different thicknesses, five different panel sizes, and four different core materials. Once you factor in Timberflex, Flexboard, and Econokore — the design options are nearly endless.
Experience the Real Deal Kerfkore Yourself
Never fall prey to a Kerfkore imposter when you order a sample of the real McCoy! Our free Architectural Kit includes samples of Kerfkore Flexible and Lightweight panels and can even be customized. Order your authentic Kerfkore sample today.