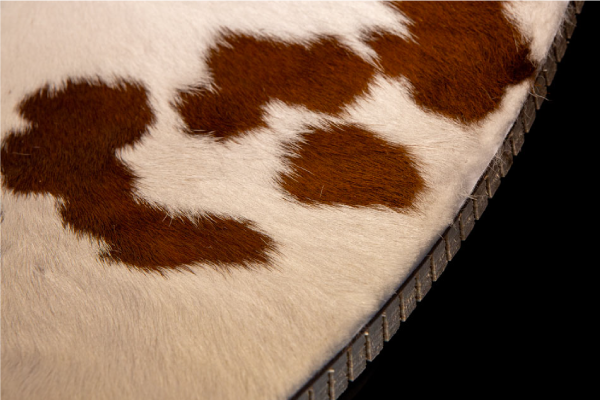 Fabricator Tip: Discover the Many Finishing Options for Kerfkore Products
October 3, 2021
Leather-wrapped columns, natural stone feature walls, curved desks encased in metal. Fabricators keep finding new and interesting ways to finish Kerfkore architectural panels, choosing from a variety of decorative surfacing options to create eye-catching results.
After all, our flexible and lightweight panels serve as a stable base for many different materials. You can easily apply veneers, high-pressure laminates (HPL), metals, stone and other finishes with little to no surface prep, sanding, patching or other treatments. Each type of finish offers a multitude of options, so you can capture the perfect look – whether it's an earthy vibe, a modern industrial look or something in between.
Here's a guide to your finishing options for Kerfkore products:
Wood Veneer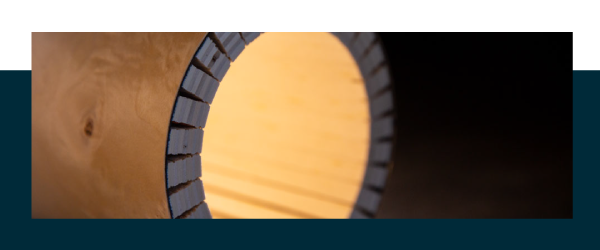 The best veneer options for our products include phenolic-backed and two-ply varieties, preferably with a perpendicular backer. Phenolic-backed veneers come with a laminate backing that creates a stable surface to reduce the chances of cracking and telegraphing. Two-ply veneers feature two layers glued together to protect against glue seepage and telegraphing.
PRO TIP: For our Kerfkore product, we recommend avoiding the use of a paper-backed veneer; if that's your only option, the veneer must be 0.020" or thicker. We also caution against using single-ply or raw veneer, which has no backing.
High-Pressure Laminate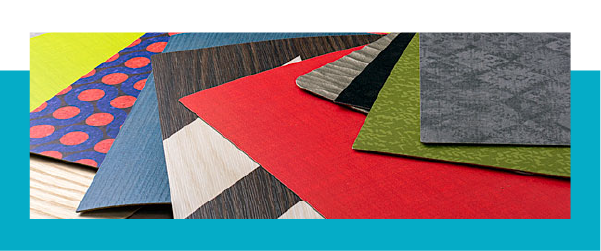 Smooth and durable, high-pressure laminates (HPL) mimic a variety of looks, from wood grain to textiles and graphic patterns. While most brands and types work well with our products, we recommend vertical-grade HPL because of its flexibility. Horizontal-grade HPL will also work as long as it has the required flexibility for your application.
PRO TIP: Avoid ending the decorative surfacing material on a radius. Especially if working with a horizontal grade laminate due to its rigidity.

Metal Laminate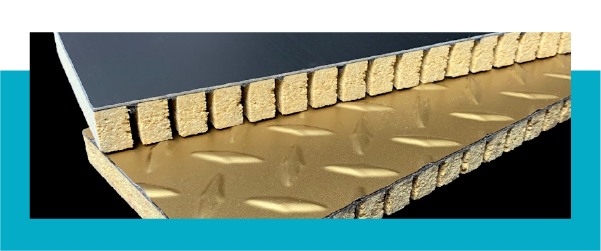 Metal laminates, such as those from Formica's DecoMetal line, come in a variety of types and textures. You can apply brushed nickel, hammered bronze and many other finishing options to walls, furniture, columns and more. The products are also relatively lightweight compared with heavier sheet metal options.
PRO TIP: Like most decorative surfaces, metals can come in a variety of thicknesses which affects the flexibility of the material. A test stripe should be used to determine whether your metal laminate will bend to the desired radius with our products.
Stone Veneer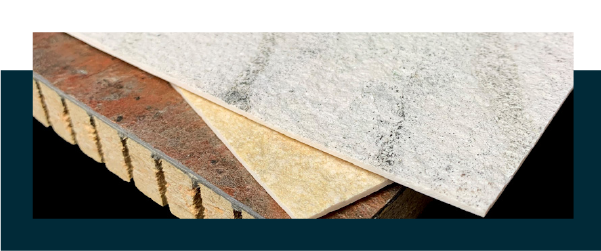 Real stone veneers, like those from Slate-Lite, give you exciting new ways to incorporate natural stone into your projects. By applying them to Kerfkore panels, you can cost-effectively feature marble, slate, granite and other varieties on walls, counters and furniture – particularly those featuring curved surfaces.
PRO TIP: Stone veneers can come with a variety of backings. We suggest using a stone veneer with a fiberglass backing for proper adhesion to our products. Always test before proceeding.
Leather Veneer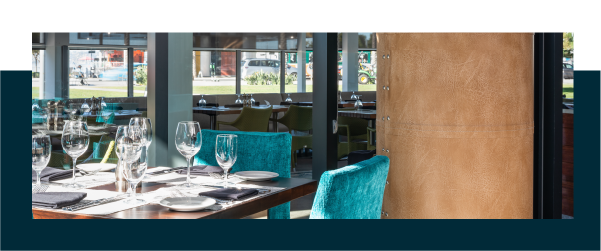 While it may be a less common decorative surfacing material, leather veneer easily adheres to our panels to create one-of-a-kind architectural elements and accent pieces. Del Frisco's Double Eagle Steakhouse in San Diego, for example, features large leather-wrapped columns. Ecodomo LLC, a leather surfacing and fabrication company, used our flexible panels and recycled-leather veneer to create these distinctive pieces. Our customers have also worked with more exotic options, using cowhide leather to really make a statement.
PRO TIP: The best way to apply a leather veneer is in a vacuum press or cold press using PVA white glue. We do not recommend using a J-Roller due to potential blisters from uneven pressure.
Paint & Stain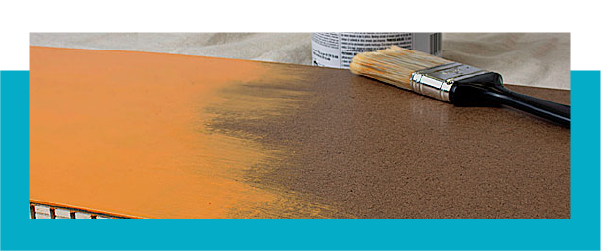 Manufactured with precision, the majority of our panels feature a consistently smooth surface ideal for the application of latex and oil-based paints. If you're working with Kerfkore flexible or lightweight panels faced with our Italian Bending Poplar Plywood, you have the option to finish the surface with either paint or stain. You can use a darker stain to mimic the look of more expensive woods, such as cherry, mahogany and black walnut. Lighter stains will give you the appearance of maple, white oak and willow.
PRO TIP: When painting, if desiring a wood grain finish, we recommend using Timberflex. For an extremely smooth finish with no grain, we recommend using Flexboard.
And More Finishing Options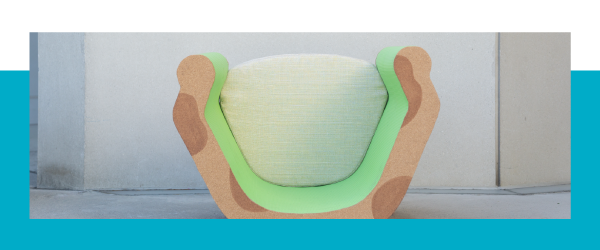 The list doesn't end there.
We continually challenge customers to use and finish our products in creative ways. An industrial designer, for example, combined our flexible panels with cork and yoga mats to create playful furniture for children with special needs.
Slam Grand Piano Company, based in Nevada, used our Timberflex panels with HPLs to create lightweight grand piano shells to cover electric keyboards. Perfect for performers, they look like real grand pianos, but they're easy to move and cost considerably less.
Are you looking for new ways to incorporate Kerfkore products into your projects? Interested in trying out a new decorative surfacing material on our panels? Contact 1-800-637-3539 for questions and technical assistance. For additional fabrication tips, check out our resource center at kerfkore.com/resources.