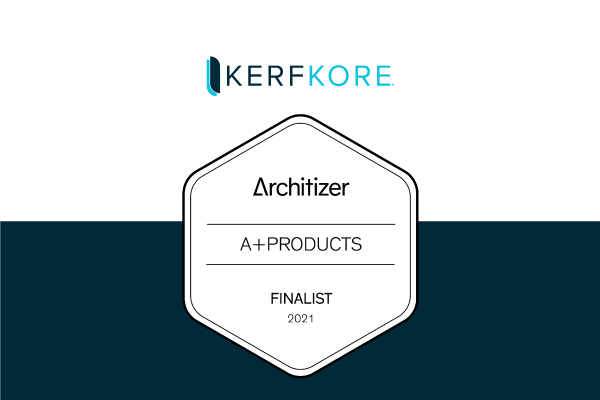 Kerfkore Chosen as 2021 Architizer A+Product Awards Finalist
October 20, 2021
The results are in, and we're thrilled!
Architizer recognized Kerfkore architectural panels as a finalist in its 2021 A+Product Awards competition. These prestigious awards honor high-quality products and materials used in contemporary building designs around the world, from facades, finishes and flooring to furnishings and lighting.
A jury of 250+ practicing architects and designers from renowned worldwide firms chose Kerfkore as a finalist in the Walls and Wall Coverings category. Finalists and winners in this and 50+ other categories, represent a full collection of trusted and innovative products selected by industry professionals.
Among the honorees, Kerfkore panels will be featured in the 2021 e-book edition of Architizer: The World's Best Building Products. This go-to resource, available in January 2022, will showcase all A+Product Award winners and finalists, including information on their manufacturers, as well as testimonials from top designers.
What Makes Kerfkore an A+Product Award Finalist?
Kerfkore architectural panels combine a unique base layer, made of particleboard, plywood or MDF, with our LTX black flexible backer. Together, they serve as a highly flexible, extremely stable base layer well suited for fast, easy surfacing with high-pressure laminates, veneers, metals and other semi-rigid materials.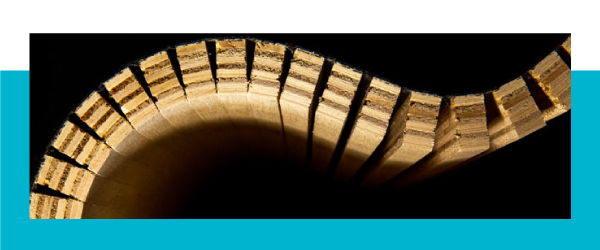 The flexible backer makes these panels ideal for any project with complex curves because it can achieve down to a 3-1/2" bending radius. Also, the finishing process is fast and consistent since fabricators apply decorative surfacing materials to the panels flat and then form them into the desired shape.
These combined benefits make our Kerfkore panels the perfect choice for a variety of projects, including wall and ceiling panels, cabinetry, furniture and other architectural elements.
Architizer Awards Celebrate Global Design Solutions & Inspiration
As a portfolio database, media site and search engine, Architizer enables architects to evaluate building products and share projects with the global design community. The organization, founded in 2009, serves an online community of more than 7 million architects and designers.
Architizer's A+Product Awards celebrate the best building products across every vertical market in the industry. For the 2021 program, they also recognized two new areas: Best in Specialization and Best in Project Type. Best in Specialization grants awards for sustainable design, innovation, new materials, designer collaboration, flexible design, prototype design and branding. Best in Project Type praises outstanding products used in residential, commercial, health, education, hospitality, cultural, transportation and landscape projects.
To learn more about Architizer's upcoming A+ Awards program for 2022, visit https://enter.architizerawards.com/.