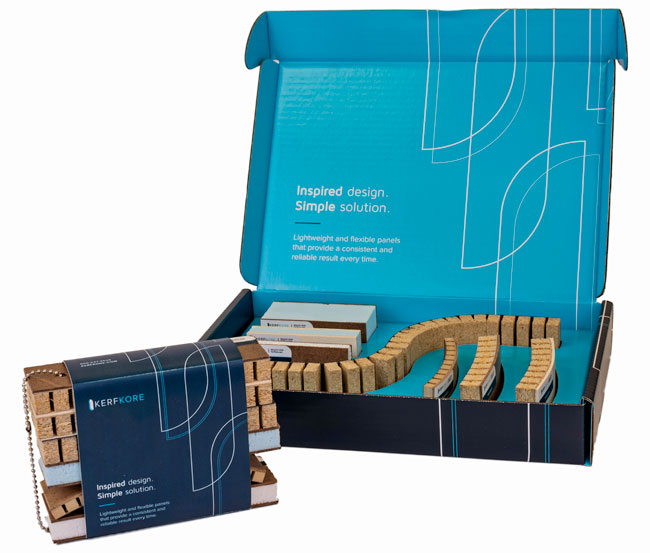 NEW KERFKORE ARCHITECTURAL AND DISTRIBUTOR SAMPLE KITS ARE HERE!
March 31, 2020
Kerfkore architectural and distributor sample kits have been redesigned to provide a more appealing and better demonstration of our products.
Kerfkore Architectural Kits have been redesigned into a branded self-ship box that immediately grabs the customer's attention and lets them know where it is from when it arrives at their doorstep. The kit includes: Kerfkore, Timberflex, Flexboard, Econokore, Worklite EPS Foamkore, and Worklite XPS Foamkore samples. A product chart is also included to provide a top line comparison of each product. Kerfkore Architectural Kits can be ordered through the website on the Request a Sample page.
Kerfkore Sample Chain Sets have been redesigned in a new branded sleeve reducing the amount of packaging while creating an attention-grabbing marketing promotion. Sets are available for order by sales reps and distributors on the Request a Sample page or by phone. When ordering, please be aware that all chain samples will be sent out in quantities of 25. (i.e. 1 unit = 25 chain sets)
Request a sample today and let us know what you think!  Forward questions, suggestions, or feedback to info@kerfkore.kinsta.cloud