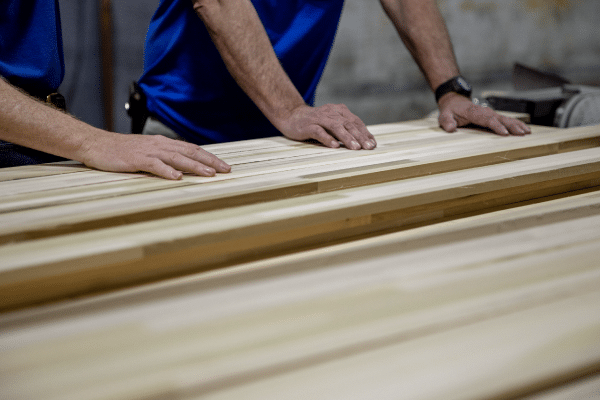 The People and Processes Behind Kerfkore Architectural Panels
May 18, 2023
We sat down with Rod Trimmings, the Plant Manager at Kerfkore, to discuss the Kerfkore manufacturing process, how new employees and new technologies are incorporated, and how it all combines to create our signature Kerfkore quality. Rod has been with Kerfkore for the past 4 years, before joining our team he was a Sawmill Supervisor at Georgia Pacific.
Kerfkore Quality Control
Kerfkore's lightweight and flexible panels are designed to be incorporated into aesthetically pleasing interior and architectural design projects while being accessible and user-friendly. This combination of thoughtful design and ease of use requires a high level of quality control throughout the entire manufacturing process.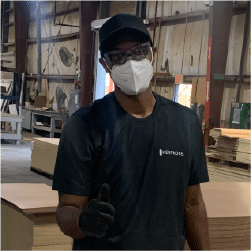 Q: How does Kerfkore ensure quality during the manufacturing process?
Rod: At each stage of the process there's a quality check. For example, inside the press, outside of the press, and in the shipping area, there's always a quality check. If there are issues with any of the materials, it's checked and identified by the leader of each workstation.
Q: What exactly is being looked at during these quality checks?
Rod: The alignment of the panels, the alignment of the faces to the cores, the panel dimensions, the face quality— making sure there are no scratches or issues with the face, those types of things.
Q: What happens after that manufacturing process to ensure quality?
Rod: There is a certain area where all the finished goods go in our warehouse. When we create panels for inventory, they're put in a designated place where they'll be staged until we pull them for order. We purposefully place them in an area of the warehouse with less foot traffic to ensure they remain protected before they get shipped out.
Q: What steps are taken in the shipping process to ensure the products arrive to the customer in the same condition they left the Kerfkore plant?
Rod: The shipping operator first verifies that everything that's on the order is on the skid. Then the entire order is packaged and protected on all four sides with hardboard panels and edge protectors on every corner, including the top and bottom. We then shrink-wrap it, band it, and store it in the designated "Ready for Shipment" area until they are loaded on the truck.
Q: Understanding that incidents do happen and a customer may experience a quality issue with their products, how do we resolve those issues?
Rod: First, we always recommend that customers visually inspect the condition of the shipment when it arrives at their shops. It's important to make sure the shipment is in good condition before the delivery truck driver leaves. If something is wrong or damaged, it must be noted on the delivery receipt to expedite the resolution process. We then ask for pictures of the damaged goods. Based on what we see and what the customer is seeing, we try to determine whether it was a manufacturing issue or a shipping issue. If it's a shipping issue, we or the customer will file directly with the carrier. If it's a manufacturing issue we work to rectify those issues so they don't happen again. In most cases, we have the customer send the product back so we can further inspect the damaged goods to determine exactly what happened and then implement solutions to our processes to prevent those issues from happening again.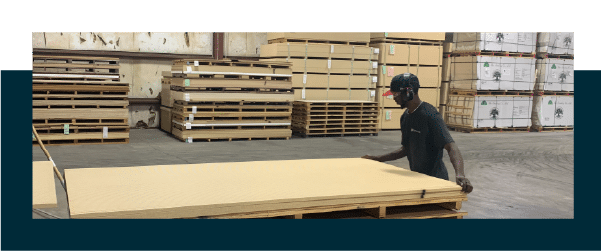 The Future of Kerfkore Manufacturing
Striking a balance between new employees, increasing automation, and the carefully handcrafted elements of Kerfkore architectural panels is a challenge Rod and his team embrace.
Q: With Kerfkore's year-over-year growth, we've seen more new employees than ever before. How do you ensure that a new employee can fit in? Can you explain what the training process looks like?
Rod: When we bring in new employees, we actually have them do a lot of observing to start. We like to ease them into our processes in a slow manner so that they can wrap their heads around the ins and outs of the workstations. There's a mentor with each new employee that guides them and assists them to make sure they're in the right place and following the right protocols. During that process, they're not allowed to move on until the mentor feels like they have mastered that workstation.
Q: How long does it take an employee to complete their Kerfkore apprenticeship?
Rod: It all depends on the workstation and the employee. Some catch on pretty fast while others need further training. Based on their skills displayed during their training, we determine what workstation will be the best fit for them and how we envision their growth path to be.
Q: Do you show employees examples of finished Kerfkore products, so they can see the ultimate goal of the manufacturing process?
Rod: Yes, we actually show finished application shots in the interview process before we even hire them! This is to give them some background on why we do what we do.
Q: What are the specific qualities that you look for in employees?
Rod: One of the things I always first look at is past employment to see if they have worked in similar industries or if they would be new to this industry. Quality-wise, I want to make sure they're detail-oriented. Someone who tends to be attentive and on time usually is more likely to pay attention to detail, which is necessary for our manufacturing processes. Those are some of the early signs I look for.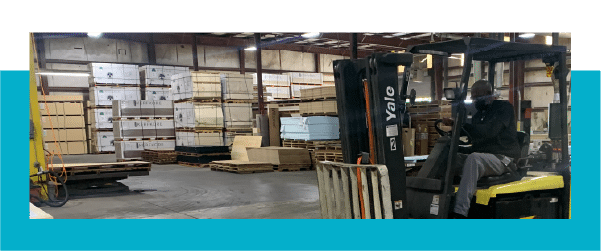 Q: We have a new leader that is working on creating new Standard Operating Procedures (SOPs) for each of the workstations, how do you plan to use those SOPs?
A: If an employee is out, such as on vacation or sick, then someone else can pick up the SOP and walk through the various steps and have the ability to operate the equipment. It may not be at full capacity, but they'll be able to operate it which allows us to continue producing at efficient levels.
Q: With the ongoing labor shortage and the desire to have more efficient processes, do you foresee more automation being implemented? And where do we need the human touch?
Rod: Now there are several areas where we can automate the process, mainly in places where the human touch is not necessarily needed. For example, in the feeding station which allows us to feed panels into the machine with no one there. There still needs to be someone on the backside to operate it by themselves, but having automation on the front end allows us to better use our people in areas they're more needed. As far as the overall necessity of the human touch, the way we operate and put panels together, it's very important that we are hands-on. I believe that our panels being crafted by people with the necessary attention to detail that can't be replaced by robotics and new technology, is what makes Kerfkore the high quality and consistent panels that they are known to be.
Q: What are you most excited about Kerfkore manufacturing in 2023?
Rod: I'm most excited to continue building out our team in the facility and streamlining our production processes as we continue to grow and move into new products.